Denver Bulk Waste Disposal Guide
Find dumpster service in your neighborhood

Have Bulk Waste? Discover Your Denver Disposal Options
Our Denver dumpster service is ideal for a range of common projects that create bulk waste. But sometimes you only have one or two items to toss, and curbside collection isn't always the answer. To help you find the best disposal option, we rounded up some local solutions for bulk trash pickup in Denver.
Need to Get Rid of Lots of Junk at Once?
Simple Denver Furniture Disposal
Furniture doesn't last forever. At some point, you'll need to toss your old couch or figure out how to get rid of your kitchen table. Fortunately, there are plenty of ways to dispose of your furniture in Denver.
Curbside Collection
Denver Solid Waste Management offers bulk trash pickup every eight weeks. No prior notice or signup is needed. Simply take your couches, chairs and tables to the curb on the designated day. However, while the city makes it simple to toss your old furniture, here are a few considerations to avoid accidental fees, fines or missed collections.
Restrictions to Note
Items must be curbside by 7 a.m.
A maximum of five pieces of furniture will be collected.
Furniture placed out the wrong week is subject to fines.
Items must have two feet of clearance from obstructions.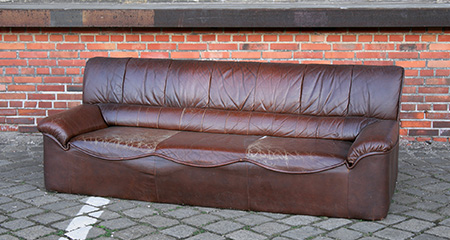 Donation Options
If you don't want to send your gently-used items to a landfill, can't wait for curbside or have more than five pieces of furniture, consider donating to a local nonprofit.
General Donation Tips
Ask about drop-off regulations and furniture pickup options.
Call ahead to make sure the organization is accepting your furniture type.
Ensure the furniture meets the charity's cleanliness and condition requirements.
1515 South Broadway  
Denver, CO 80210  
303-777-3703
5725 East 39th Avenue  
Denver, CO 80207  
303-297-1815
6850 Federal Boulevard  
Denver, CO 80221  
719-635-4483
Call to Rent a Dumpster for Furniture Disposal
Mattress Disposal Options
When it's time to upgrade your mattress and box spring, it can be hard to get rid of the old ones. As with other furniture, there are a number of options to get rid of a mattress in Denver.
Curbside Collection
Mattresses are considered large waste and collected by Denver Solid Waste Management every eight weeks. Just take your old mattress and box spring to the curb on your designed trash collection day and the city will do the rest.
Restrictions to Note
Items must be curbside by 7 a.m.
Only five pieces of bulk trash will be collected.
Ensure two feet of clearance from any obstructions.
Placing items out on the wrong week may result in fines.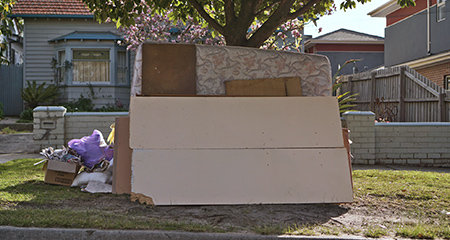 Mattress Recycling
Spring Back Colorado and the Center for Hard-to-Recycle Materials (CHaRM) offer mattress recycling for the Denver area. They offer both pickup and drop-off options, with a small fee to cover transportation costs.
4975 Pontiac Street  
Commerce City, CO 80022  
720-515-1328
6400 Arapahoe Road  
Boulder, CO 80303  
303-444-6634
Donation Options
Mattresses are generally not accepted by area nonprofits to prevent the spread of bedbugs. However, if you're still looking for mattress donation options, consider one of the following:
Ask friends if they know of a family in need of a mattress.
Post in local community groups to see if there is interest.
Reach out to local shelters to see if they have any leads.
Call to Order a Dumpster for Mattress Disposal
Easy Denver Appliance Disposal
Whether you're upgrading your washer and dryer or replacing a broken refrigerator, at some point you'll find yourself wondering how to toss appliances. Check out the resources below to find an option that works for you.
Curbside Collection
Appliances are only collected by the city with a scheduled appointment. By requiring an appointment, the city can make sure the metal is recycled and any Freon is properly removed and disposed of. This service is free of charge.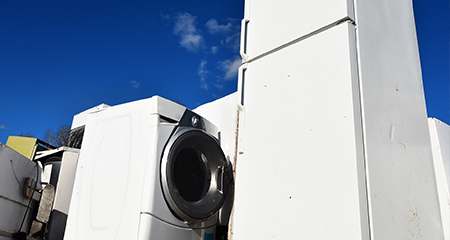 Donation Options
If the city's free collection service doesn't fit your schedule or your appliance is still in working condition, consider one of the organizations listed below to give it a second life.
General Donation Tips
Ask about drop-off regulations and pickup options.
Call ahead to see if the organization will accept your specific appliances.
Make sure the appliance is working and, generally, no older than five years.
13280 East Mississippi Avenue  
Aurora, CO 80012  
303-296-3990
70 Rio Grande Boulevard  
Denver, CO 80223  
303-722-5863
988 Dayton Street  
Aurora, CO 80010  
303-344-4014
Rent a Dumpster to Toss Several Appliances at Once
How to Dispose of Electronics in Denver
Electronics have been banned from Colorado landfills since 2013. When you upgrade to the latest smart TV, laptop or cell phone, consider some of these options to responsibly dispose of your old ones.
E-Waste Tip: Any time you dispose of devices with personal data, be sure to reset them to factory settings to protect your privacy.
E-Waste Recycling Options
The City of Denver offers an E-Cycle Coupon Program to recycle your electronic devices for a discounted fee. Just fill out the application online and your coupon will be mailed in two to three weeks. Only one coupon will be mailed per household in a calendar year.
If you can't wait a few weeks or have more than one device to recycle, consider one of these options to recycle your e-waste. Please note that fees may apply.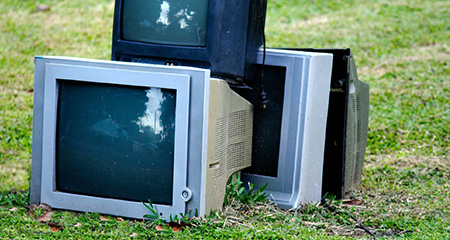 953 Decatur Street  
Denver, CO 80204  
303-534-1667
6240 West 54th Avenue  
Arvada, CO 80002  
303-425-9226
3251 Lewiston Street, Suite 10  
Aurora, CO 80011  
303-376-4182
Donation Options
If your devices are in good condition and aren't too outdated, consider donating them to one of these local organizations.
General Donation Tips
Ask about drop-off and pickup options.
Call ahead to make sure the organization is accepting your device type.
Make sure the item is in usable condition and has been reset to factory settings.
2835 West Oxford Avenue, Unit 3  
Englewood, CO 80110  
303-407-4054
1709 South Acoma Street  
Denver, CO 80223  
303-989-2832
How to Get Rid of Yard Waste
As long as you have a yard, you'll need to dispose of organic waste. Whether it's lawn trimmings, tree branches or stumps, check out some of the various disposal options available in Denver.
Curbside Disposal
You can toss up to 10 bags of lawn trimmings every eight weeks on your extra trash collection day or up to 10 bundles of tree branches. You may also opt into the Denver Composts program for a quarterly fee, allowing you to toss leaves and small branches with your weekly collection.
Restrictions to Note
Stumps, dirt, sod and rocks are not accepted.
Branches must be less than four feet in length.
Branches must be less than four inches in diameter.
Tree branches must be tied and weigh under 50 pounds.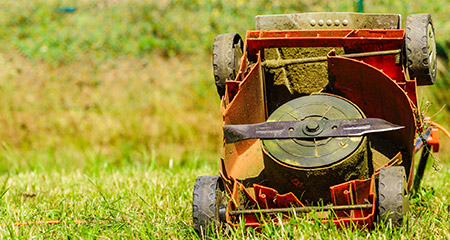 Composting Options
For smaller amounts of yard waste, consider composting on your own property if you have the space. However, if you have a lot of organic material and you're looking for a way to return your green waste to the earth, there are a number of facilities that will accept tree branches, lawn trimmings and leaves to create compost and reuse as mulch.
General Composting Donation Tips
Find out if there are size and weight restrictions.
Ask about drop-off regulations and pickup options.
9109 Monaco Street  
Commerce City, CO 80022  
303-710-9301
2450 South Syracuse Way  
Denver, CO 80231  
303-756-8660
7400 Cherry Creek Drive South  
Denver, CO 80231  
720-913-1311
Rent a Dumpster to Toss It All
Our experienced team is ready to keep your project moving, whether you've got a lot of waste to toss at once or can't wait for a bi-monthly curbside pickup. Toss it all without an item limit in our most popular container size — the 20 yard dumpster. If you're cleaning out an entire home or doing a major remodeling job, we also have larger 30 and 40 yard containers. Let us haul it all away so you can focus on the work at hand.
Please note that some materials may have fees or restrictions. We'll go over specific notes when you order.
Call 720-398-6006 to rent a dumpster today.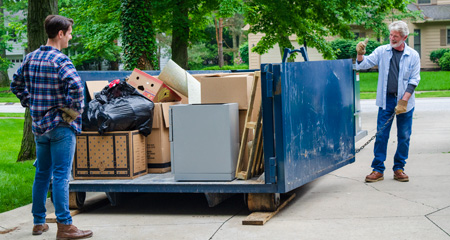 The Best Way to Dispose of Hazardous Waste
Paints, pesticides and automotive fluids can be dangerous to the environment if not properly handled. Luckily, the City of Denver offers a collection program, and there are a few options in the Greater Denver area to take your hazardous materials.
Denver Collection Program
Denver's Household Hazardous Waste Collection Program is open to residents. The city will schedule one collection appointment per calendar year for a $15 disposal fee. In order to qualify, you must have at least three different types of materials or 25 pounds of one material.
How to Schedule a Collection
Call 1-800-449-7587 or visit the city's website.
Label your various waste.
Put your items in the bag that is sent to you.
Place the bag outside your front door by 7 a.m. on your scheduled collection day.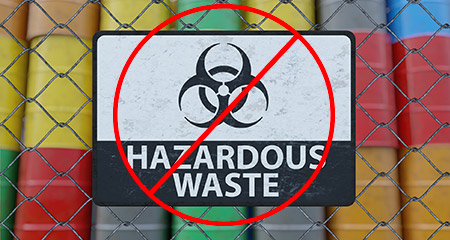 Area Drop-Off Options
Don't worry if the city's timeline doesn't fit your needs, you don't fit their criteria or you've already used your yearly collection. There are other local drop-off locations that will take your hazardous waste.
Denver Suburb Service Locations
Click a location in the list below to find out more about service in your suburb. Don't see your city? Give us a call to see how we can help with your bulk trash removal needs.