Key Stats
10+ Locations
Added Per Month
90% Less Time
Coordinating Dumpsters

This mobile convenience store operates distribution, warehouse and retail locations nationwide. To continue expanding their business into new cities, they needed an easy-to-reach waste provider to set up new facilities. That's why they turned to Dumpsters.com.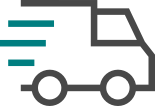 Industry: Mobile Delivery Service
Headquarters: East Coast
Types: Roll Off & Front Load Dumpsters

Challenge: They Waited 30+ Minutes on Hold to Reach Their Former Waste Provider
As a fast-growing delivery business, this company needed a single point of contact they could reach easily to set up new locations or to adjust service at existing facilities.
"Before working with Dumpsters.com, we were working with [a national provider] as well as a large amount of smaller one-off companies," said one of their facilities coordinators. "One point of frustration has been trying to keep track of all of our different accounts with [our former provider]. We did not have one account [point of contact] with [our former provider], so many sites would be listed under one login, more under another, and too many under their own individual logins.
"A second point of frustration was each site had its own number to call depending on the state; there was no direct line to be connected," she continued. "Each time you needed to call and report a missed pickup or request additional services, you needed to log in under the correct site login, find the location's account, and make sure to reload to get the appropriate regional number."
"A lot of times the work we would call in (adding containers, increasing container size, etc.) would not actually be completed, so you would need to start the whole process over again and almost never spoke to the same representative who was helping you previously."
Facilities Coordinator | Mobile Delivery Service
Solution: They Get a Hold of Dumpsters.com in 12 Seconds Flat
With Dumpsters.com, this company can call a direct line or send a quick email to speak with their dedicated account manager, whether it's a service question or they're opening another new facility.
"I have truly appreciated how quick to assist our account representative has been," the facilities coordinator said. "Generally speaking, I have been able to have most of my issues addressed and resolved in the same day.
"It has been such a time saver to be able to send my representative an email with our site information vs. completing about five steps to hope that I am able to speak with a knowledgeable rep who will complete the task at hand," she added.
"My business has been working with Dumpsters.com for years now. They are able to meet my business's rapid growth demands and provide excellent customer service. Our dedicated account manager is always available and treats my business as a main priority to them. They save me countless hours of sourcing local haulers and a lot of money by getting me the best competitive pricing all over the country. They also monitor all of these locations and are quick to handle any missed pickups or service increase requests right away. I highly recommend Dumpsters.com."
Territory Team Launch Leader | Mobile Delivery Service
Results: This Mobile Convenience Store Partners With Dumpsters.com for 250 Locations
They open 10+ new locations monthly, working exclusively with Dumpsters.com as their waste provider. They spend 90% less time on the phone searching for a reliable trash service, allowing for more opportunity to focus on daily operations and grow other areas of their business.
Additionally, they work with the team at Dumpsters.com to find the most competitive pricing in the area, helping to reduce their overall spend on waste removal.
"With the help of my dedicated account manager, Dumpsters.com cut our costs by 48% in one location by recommending that we use two containers based on our unique waste needs. This is just one of many examples of how they consult with us for our trash disposal."
Territory Team Launch Leader | Mobile Delivery Service
Need a New Waste Provider for Your Business?
Let us help you save time on waste removal. Call now to speak with our team.