Week 2
How to Pack Fragile and Frequently Used Items
What to Pack Last: Tips for Moving the Essentials
At this point, you've already packed the lesser-used spaces of your home. Now's the time to tackle the rooms and items you use the most, including boxing up fragile items. The next two weeks will fly by, so let's get packing.
We suggest downloading our moving checklist to stay organized while you pack.
Packing Electronics and Your Home Office
Getting back to business after your move is important, especially if you work from home. Here's how to pack your computer and laptop.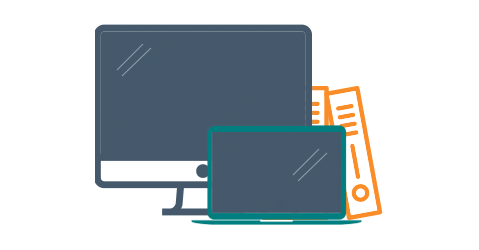 How to Pack a Desktop Computer
Before packing your computer, back up your data and remove flash drives, devices or discs. Find a box that fits your computer snugly, then shut it down and wipe the exterior clean.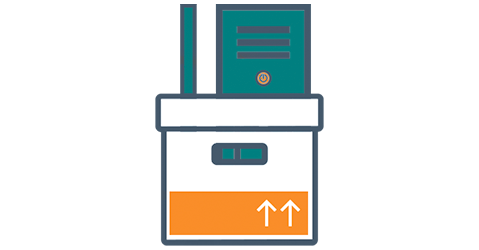 Packing Your Desktop Computer and Monitor
Fill the bottom of the box with several layers of packing paper or packing peanuts.
Wrap the tower and/or monitor in several layers of bubble wrap.
Tape the outside layer securely.
Place the tower upright inside the box first.
Add bubble wrap or packing paper on top of the tower.
Place the monitor upright on top of the tower. Face the screen toward an inside wall of the box.
Packing Computer Cables and Accessories
Take a picture of the cables connected to the back of the computer for easy setup later.
Unplug cables connected to the tower and monitor. Neatly fold each cable.
Put the cables together in a large plastic bag.
Wrap the mouse, keyboard, modem, speakers, webcam and router separately in packing paper.
Place in the box with your tower and monitor.
Fill any spaces inside the box with wadded newspaper or packing peanuts to prevent shifting during the move.
Tape the box securely and label it for the office. Include a list of the contents.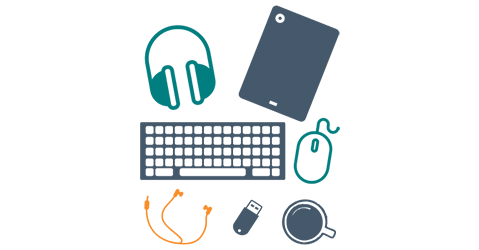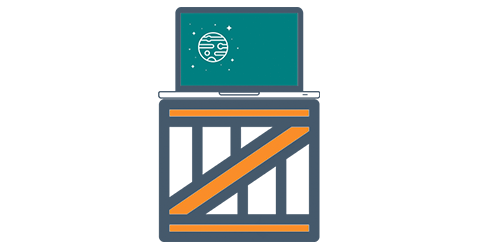 How to Pack a Laptop
We recommend moving laptops, tablets and other mobile devices with you in a backpack or purse rather than the moving truck. However, if you do need to box them up, here's how to do it.
Wrap your laptop in several layers of bubble wrap, covering each corner.
Pack the computer on its side in the moving box. Do not pack flat.
Fill the sides and any gaps with wadded packing paper to prevent any movement.
Wrap the charger neatly in packing paper. Place it inside the box with your laptop.
Tape the box securely shut and label it for the office. List the contents.
How to Pack Books
Find a sturdy box — books get heavy.
Line the box with packing paper.
Alternate bound edges with each layer.
Fill gaps with wadded newspaper.
Tape the box securely shut and label for the office or library. List the contents.
Pro Tip: Wrap photo albums, leather-bound volumes or other books of sentimental value individually. Separate each book with cardboard to keep their spines straight during the move.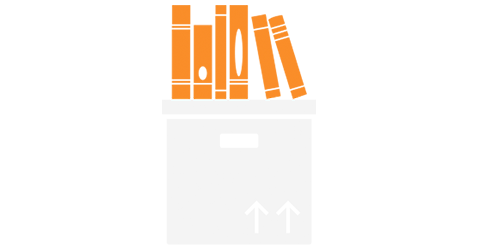 How to Pack the Kitchen for Moving
With gadgets and gizmos aplenty, the kitchen is one of the trickiest rooms to pack. Take it one cabinet at a time. From packing waffle irons to wine glasses, learn how to avoid breaking your kitchenware.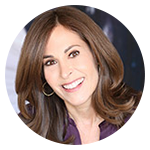 "Look at the new space with a critical eye. What do you have room for? If you're moving to a smaller space, only take what will fit. Be wary of large appliances that are rarely used (bread maker, ice cream maker). Don't take them if you can part with them."
Barbara Reich,
Professional Organizer, Life Organized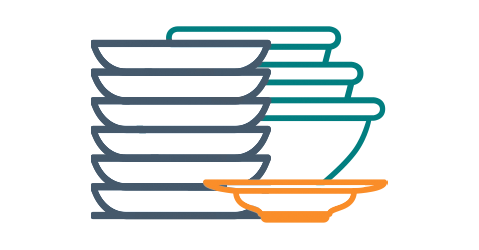 How to Pack Dishes for Moving
Cushion the bottom of a large box with a layer of packing peanuts or wadded newspaper.
Wrap each plate individually with newspaper.
Load plates into the box on their sides. Never lay flat.
Place a layer of crumpled newsprint down before starting a new layer.
Tape and label the box "Fragile: Kitchen." List contents.
How to Pack Pots and Pans
Prepare a box with newspaper or packing peanuts at the bottom.
Stack pots or pans inside each other wherever possible with layers of newspaper in between.
Wrap the entire set in bubble wrap or newspaper and tape them together.
Pack the stacked pots or pans inside the box.
Wrap glass lids separately with bubble wrap. Place on top of pots and pans.
Fill empty areas with packing peanuts or wadded newspaper.
Tape and label the box "Kitchen." List contents.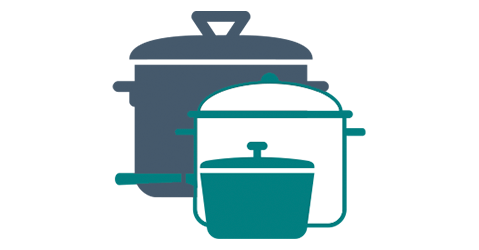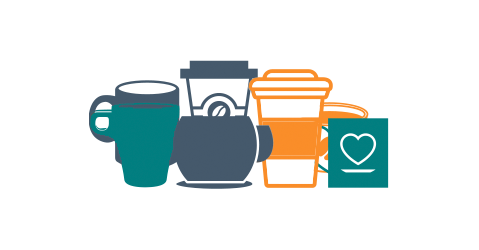 How to Pack Coffee Mugs
Fill the bottom of the box with a layer of wadded newspaper.
Wrap each mug individually with packing paper.
Stuff crumpled newspaper inside of the mug for reinforcement.
Place mugs face down for stacking.
Layer with newspaper before beginning the second row.
Fill empty areas with packing peanuts or wadded newspaper.
Tape and label the box "Fragile: Kitchen." List contents.
How to Pack Small Kitchen Appliances
Clean your appliances and take them apart, if necessary.
Pack heavier appliances like toaster ovens in their own box.
Layer packing peanuts or newspaper to cushion the bottom of a large box.
Wrap a few sheets of newspaper around the appliance and seal it with tape.
Wrap any removable accessories and box them together.
Use bubble wrap for fragile accessories like glass microwave trays, coffee pots or removable blender blades.
Fill empty space with packing peanuts or newspaper.
Tape and label the box for the "Kitchen." List contents.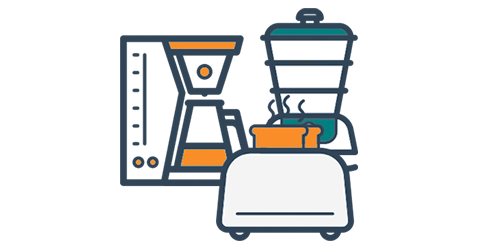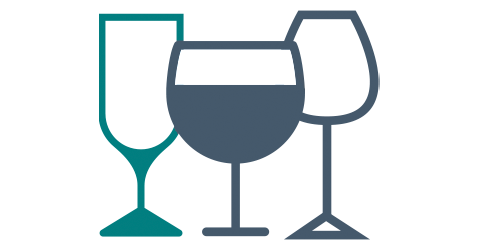 The Best Way to Pack Wine Glasses
Wrap the stem with a piece of newspaper.
Gently stuff the bulb with crumpled newspaper for cushioning.
Wrap the entire glass in two layers of newspaper.
Pack each wine glass on its base.
Separate each glass with small pieces of cardboard.
Pad empty spaces with wadded newspaper.
Once full, make sure that nothing rattles.
Tape and label the box "Fragile: Kitchen." List contents.
Pro Tip: Find celled boxes for wine glasses in liquor stores, wineries or moving supply stores.
Find a Dumpster for What You Don't Need
Packing Your Living Room
Time for family photos, televisions and other personal touches to come down. If you've already packed personal items to stage your home to sell, take this time to make sure the rest of your favorite mementos stay safe during the move.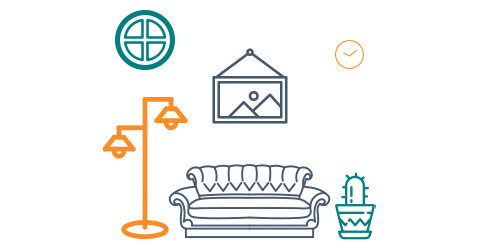 Packing Your TV and Home Entertainment System
Take a photo of the back of your TV's component inputs to make it easier to set up in your new home.
Unplug cables and gather them neatly. Tape and label with painter's tape or masking tape.
Place cables with remotes in a separate labeled box.
Clean your TV with a soft, dry cloth before packing.
Wrap the TV in a moving blanket or pack it in the original box.
Wrap DVD players, speakers and other equipment in bubble wrap and box.
Pro Tip: Detach your flat-screen television from mounting hardware to make them easier to transport on moving day.
How to Pack Pictures and Artwork
Prepare a box with a layer of newspaper at the bottom.
Cover each picture frame or piece of artwork with newspaper.
Wrap each piece with a second layer of bubble wrap.
Place items in the box, filling in spaces with peanuts or wadded newspaper.
Be careful not to overfill the box — glass frames are heavy.
Tape the box closed and label it appropriately with fragile stickers.
Pro Tip: Wrap large portraits or framed prints in moving blankets.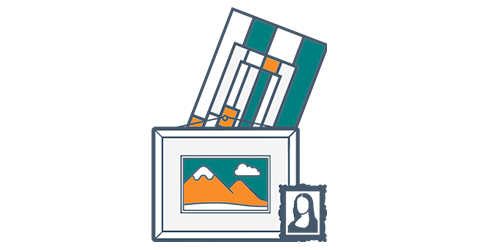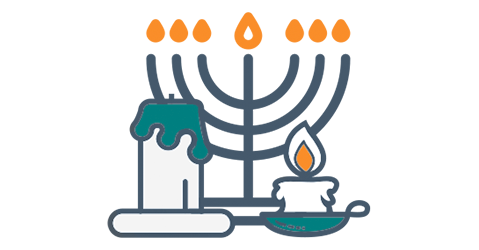 How to Pack Candles
Gather all your candles to be packed in one box together.
Wrap glass jars in newspaper and bubble wrap.
Wrap larger wax candles individually with old towels or cleaning rags.
Wrap votives or skinny candles individually with tissue paper or wax paper.
Wrap candelabras or heavier candle sticks individually with bubble wrap.
Place into one box and label "Candles."
Pro Tip: When packing for long-distance moves, consider putting this box in your air-conditioned car instead of the moving van to keep them from melting together.
Packing Pillows, Cushions and Curtains
The family room is home to a variety of fabric items that are often overlooked when moving. To keep them all clean and safe, invest in some strong trash bags and storage bins.
Fill a trash bag or storage bin with throw pillows and blankets.
Wrap couch or chair cushions in labeled trash bags to keep them clean during the move.
Remove and wash curtains. Fold and pack in storage bins.
Take apart curtain rods. Bag and label screws. Pack with curtains.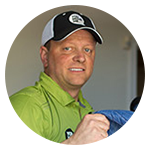 "Many people think they are completely packed but come moving day are last-minute stuffing items into boxes. This increases the moving time and in turn, can increase your estimate costs."
Joe Devost,
Operations Field Manager, You Move Me
Bedrooms are a bigger packing project than you might expect. Whether you have a bed full of throw pillows or a dresser layered with jewelry, there are a lot of small, personal belongings to collect. Whatever you do, don't wait until the last minute to clean out your closet. Follow these tips to make packing your bedroom easier.
Packing Your Sheets and Bedding
Wash and fold extra sheet sets.
Wash comforters, quilts and blankets.
Pack bedding in storage bins to avoid wrinkles.
Label the bin for the bedroom.
Pro Tip: Put aside a set of sheets, blankets and pillows for your first night. Pack them in a clear, easy-to-find container. Plan to move this bin yourself.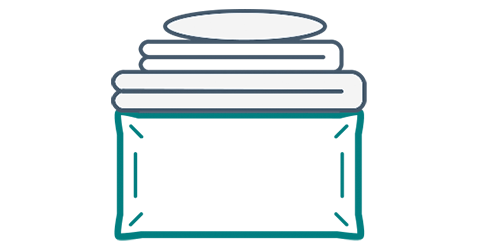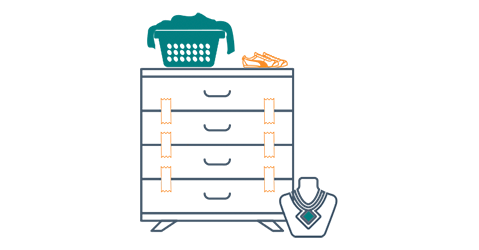 Hacks for Packing Clothing and Accessories
Keep clothing folded in the dresser. Tape drawers closed and wrap them tightly in plastic wrap.
Roll clothes instead of folding them to maximize space.
Slide clothes on hangers directly into garbage bags, instead of wardrobe boxes.
Use egg cartons to pack delicate jewelry like rings, necklaces and earrings.
Stuff shoes and wrap them with tissue paper before boxing to avoid misshapen shoes or scuffs.
Feed necklaces through straws to avoid tangles.
Group chunky necklaces together with toilet paper rolls.
Packing Tips for the Laundry Room
Use, donate or responsibly dispose of chemicals like liquid laundry detergent or bleach before your move.
Use laundry baskets or hampers to hold laundry room accessories.
Wrap your ironing board with moving blankets.
Wrap the iron with bubble wrap and pack it in a small box.
Tape sewing kits securely and pack them in a small box cushioned with wadded newspaper.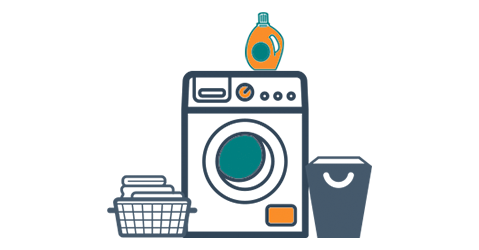 FAQs for Packing Fragile Items
What's the best packing material for fragile items?
Bubble wrap is the most-used material for packing items like glass, ceramic and porcelain. However, you'll also need to use packing peanuts or packing paper to fill in the gaps and keep your items from moving around in the boxes.
How do you pack very delicate items?
First, add a cushioning layer of crumpled newspaper, or foam peanuts to keep your fragile items from shifting. Then, wrap each delicate piece individually with bubble wrap. After carefully placing your items in the box, fill any empty spaces with loose-fill peanuts or wadded newspaper.
Is it safe to bubble wrap electronics?
Yes, wrapping electronics in bubble wrap is a great idea. This will ensure that all the edges are covered to prevent chips, scratches or damage to screens. It'll also help to limit static electricity and excess heat.
Is it better to pack dishes in paper or bubble wrap?
Dishes are best packed in clean foam wrap because it is thin and protective. You can use bubble wrap, but it takes up more room in the box. Your third option is paper packaging, but you'll need to use several layers on each plate. If you choose this route, try to avoid printed newspapers. The ink may smear on your plates, giving you more work to do when unpacking.
Now that you've packed up most of your home, we're approaching the final countdown. Next week, we'll prepare you for the big day and outline everything you'll need for your moving essentials box.