Week 5
Moving Organization: Declutter Your Home & Collect Packing Supplies
Downsize Your Home for Easier Packing
Preparing for a move takes a lot of organization. This is the prime time to sort through your stuff to decide what to keep and what to toss.
Decluttering your home before packing will save a lot of money on moving costs down the road. Here are some expert tips to help you sort and purge your extra junk, especially if you're downsizing.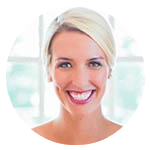 "Decluttering on the front end of moving is crucial. Moving is the perfect time to go through all of your belongings and decide if you'd like to donate, consign or toss anything. Before you pack it, be sure to evaluate whether or not it's something you really want to bring to your new home. If you do not, set it aside in a pile for donating. If you don't need it, it's time to let go of it."
Allo Perry Piller,
Professional Organizer, Neat Method
Decluttering for a Move
Moving from a large four-bedroom house into an apartment or condominium? You might be wondering how to start decluttering. Parting with sentimental items can be difficult, but it's almost inevitable when organizing for a move. Follow the downsizing tips below to make the process easier.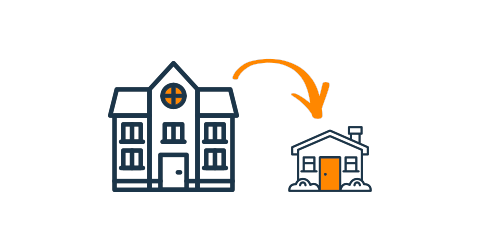 How to Downsize and Declutter Your Home
Invite a friend or family member to help decide which items to keep.
Use your new space as a visual guide for what will fit.
Focus on items you use the most.
Snap photos of items you want to remember.
Plan a garage sale or auction.
Consider an appraisal for items of high value.
Visit local consignment stores to sell furniture and other items.
Donate to local charities.
Rent a dumpster to quickly dispose of unwanted items.
Rent a storage container or storage unit to hold cherished items.
Find a Dumpster to Toss What You Don't Need
How to Organize When Moving From House to House
Step-by-Step Decluttering: Prioritize Rooms With the Most Stuff
Start by decluttering the areas of your home with the most stuff. Kitchens and closets tend to be the most cluttered areas. Sort through one drawer or cabinet at a time, and remove what you no longer need.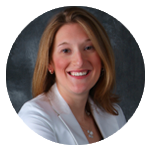 "Determine what you're really using by moving items into a box. As you use an item, place it in a [different] box, (or a different cabinet) and at the end of two weeks you'll know what you really use."
Bonnie Joy Dewkett,
Founder, The Joyful Organizer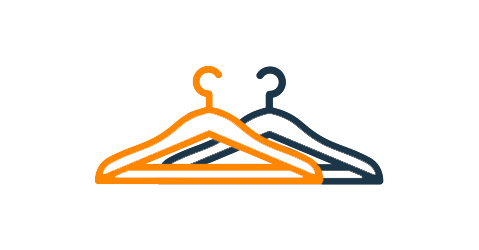 1. Try the Oprah Winfrey Closet Hanger Experiment
A sorting system is a helpful way to clean out your closet. After washing clothes, put them back into your closet with hangers facing the opposite direction. After a couple of weeks, you'll begin to see what hasn't been worn. Sort through these items and decide which items you'll keep, toss or donate.
2. Create "Trash", "Keep" and "Maybe" Boxes or Piles
Start a "maybe box" to organize for your move. As you sort through each room, throw the things you're not sure about in there. This includes items you don't use now but might see yourself using in the new home. After you've made your way through the rooms, take a final look at this box and decide what to keep and toss.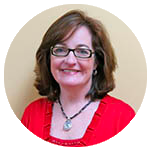 "Schedule your decluttering sessions like you schedule a lunch date or a doctor's appointment. Give yourself a finite amount of time that is reasonable to accomplish the task while considering your busy schedule, your stamina, and any help you may be receiving."
Katie Davis,
Business Development Director, Let's Move, LLC
3. Purge Unused Items
Now's the time to part with items that you no longer use or don't fit your taste anymore. We're talking about the boxes that you never unpacked from your last move. If you haven't picked it up or even looked at it in the past few years, odds are it's time to let that stuff go. Try to see how fast you can fill a single trash bag with items to toss or donate.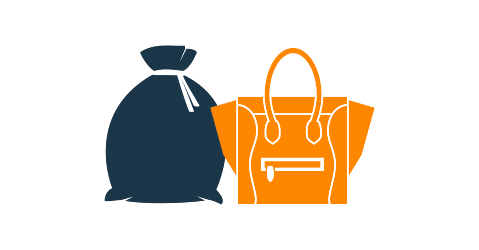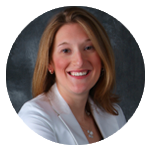 "If you have a tote or box in your home, and you don't know what's inside, chances are it can all be donated/trashed. Bring what you love and honor what you have. Everything else can be left behind."
Bonnie Joy Dewkett,
Founder, The Joyful Organizer
Common Items to Trash or Donate:
Cosmetics
Broken appliances
Tupperware
Magazines, newspapers and books
Movies and CDs
Clothing
Processed foods
Dishes
Kids artwork
Garden tools
Toys, board games and puzzles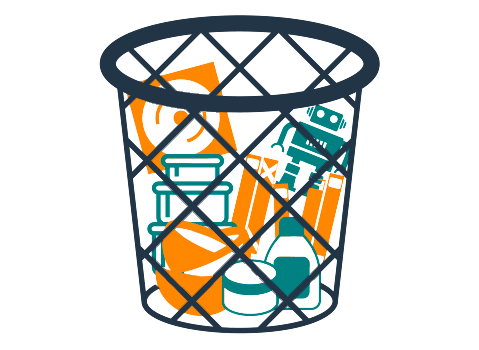 This is also the time to collect your packing materials. Having all of your packing boxes and other moving supplies on hand will speed up the packing process.

Boxes of various sizes (see below!)

Plastic bins

Shipping tape

Sharpie permanent markers

Box cutters and/or scissors

Stretch wrap

Bubble wrap, paper or newspaper

Gloves and knee pads

Furniture pads and covers

Cleaning supplies
Download our color-coded packing labels to stay organized during your move.
Where Can I Get Boxes for Free?
You'll obviously need plenty of boxes to pack up your whole home. While some experts recommend buying boxes with the same dimensions, allowing for even stacking, the price of boxes can add up along the way. So where can you get free boxes for moving? Simply call or visit any of the below places to have boxes set aside for you.
Where to Get Free Moving Boxes:
Friends who recently moved
Recycling centers
Grocery stores
Yard sales
Liquor stores
Office buildings
Warehouse stores
Home improvement stores
Auto supply stores
Pharmacies
Colleges and schools
Fast food restaurants
Bookstores
Craigslist
Bars and restaurants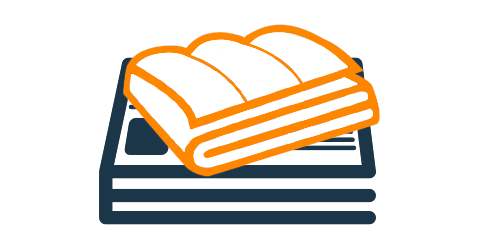 How to Protect Your Belongings When Moving
Nobody wants to open a box and find broken belongings after a move. Wrap each item individually to ensure that everything will make it from point A to point B safely. Bubble wrap is the most protective insulator for fragile items like glass or porcelain. But just like boxes, bubble wrap can become pricey and wasteful. Instead, you can opt for more environmentally friendly solutions.
Sustainable Packing Tips
Old magazines and newspapers are great packing materials that can be recycled when you're done. Also, take a look at your old sheets, blankets and towels. You can wrap larger items with these thicker fabrics so they get one last run before you toss them.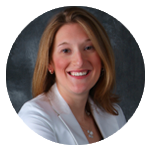 "The best supplies are good packing materials. Unprinted newspaper is the best type of packing to wrap just about everything in your home. It's recyclable on the back end and it's very cost-effective."
Bonnie Joy Dewkett,
Founder, The Joyful Organizer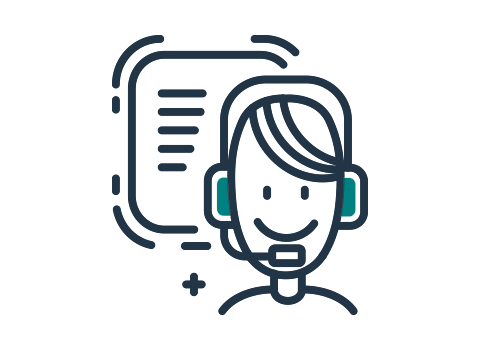 Final Step of Moving Organization: Book Your Moving Company!
By the end of Week 5, you should have finalized your moving company research from last week. With all your decluttering, you can give the movers an accurate inventory for a close estimate. Make sure to get on their schedule now so you can focus on packing the next few weeks.
FAQs for Moving Organization
What is the best way to organize for moving?
To stay organized during a move, we recommend starting a moving binder and using our printable checklists to track your inventory. You can also use color-coded moving box labels so you can easily see which box goes where in your new home. To take it a step further, make a list of what each box contains to save time when you need to unpack the essentials.
What should be in my moving binder?
Your moving binder should include everything you need for your move in one easy-to-find place. This is where you'll want to keep your moving checklist, budget plans, utility information, movers' phone numbers, and general receipts and loan information.
Should I organize before I move?
Absolutely. Organizing and decluttering before a move will save you time and energy on both sides of the move. On top of that, moving less stuff from place to place means that your moving costs will likely be more affordable.
Take this week to declutter your home, collect moving supplies and get organized. Next week, we'll start packing.