How Dumpster Weight Limits Work
Check available dumpsters near you

How Much Weight Can You Put in a Dumpster?
Weight limits for temporary dumpsters vary based on the type of debris you're throwing out and the size of the container. 10 tons, or 20,000 pounds, is the max weight that the average dumpster truck can haul, but limits will often fall between 2-6 tons, or 4,000-12,000 pounds, to meet local road safety restrictions. Overfilling your dumpster can result in overage charges, so use this guide to help you find the right size container to avoid unexpected costs.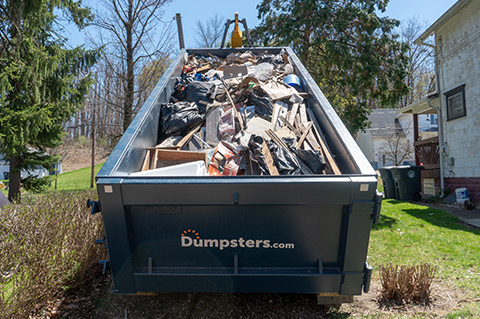 Find Dumpster Service Near You
What's the Weight Capacity for Each Dumpster Size?
We provide a generous weight limit for each of our container sizes, allowing you to toss debris from a wide range of projects, from home cleanouts to large-scale remodeling jobs. If you have questions about finding the right dumpster for your project, give us a call.
Exact weight limits may vary by location and type of debris.
Tips to Stay Within Your Weight Limit
1. Get the Right Size
We'll help you choose from our range of dumpster sizes to find the best fit for your project, so you won't have to worry about exceeding your weight limit.
2. Fill It Smartly
Walk heavy items through the bin's swinging door and fill the container evenly. Our team will tell you how high to place your specific debris so you don't overload the dumpster.
3. Reach Out With Questions
We're here to help. If you have more debris than you anticipated or questions about specific items, our expert team is just a call, text or email away.
Dumpster Weight FAQs
How do we price the weight of your dumpster?
Weight is a major factor in the price of your dumpster since landfills charge a fee per ton. After we pick up your container, your debris is weighed at the landfill and the cost is calculated based on their fee structure.
To make budgeting easier, our flat-rate pricing includes disposal costs for a specific weight limit. As long as you don't exceed that limit, this means you'll know what you're paying upfront—no need to wait and wonder until your debris gets to the landfill.
How much does an empty dumpster weigh?
An empty dumpster weighs between 3,750 and 6,500 pounds, depending on the size of the container. However, the weight of your empty dumpster isn't factored into your weight limit.
How is your dumpster weight measured?
The dumpster is weighed when it arrives at the landfill and again after the debris is dumped. The difference between those two weights is then used to determine the weight of your debris and the cost of disposal.
How do I know what my debris weighs?
We'll ask questions about what you're tossing to help gauge the weight of your debris. This helps us suggest the right bin size for your project. You can also use our dumpster weight calculators to get an estimate.
How much weight can a roll off truck carry?
While the average dumpster truck can haul up to about 10 tons, or 20,000 pounds, weight limits often fall between 2-6 tons, or 4,000-12,000 pounds to guarantee safe transportation.
More Dumpster Rental Resources
Check out these helpful resources and learn more about the dumpster rental process.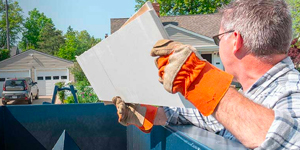 Helpful Guides: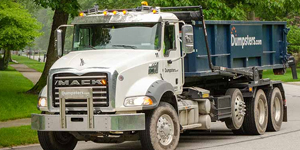 Dumpster Rental Tips: