What Is a Dumpster Fee?
A dumpster rental fee is a supplementary charge added to a customer's bill if they break the rental terms, like overloading your container or exceeding the weight limit. However, we take the time to review the agreement with you and everything included in our straightforward rates to help you avoid extra fees. The typical prices for these fees varies based on your particular situation, where you live and the debris types involved.
View our average costs below for a breakdown of these amounts.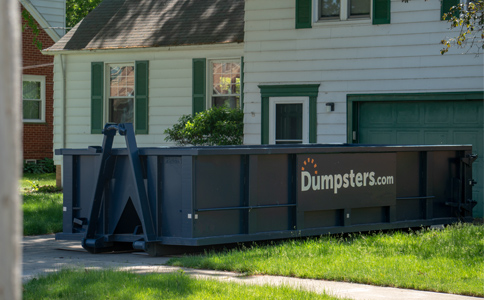 Types of Dumpster Fees and How to Avoid Them
While we bundle all of your basic disposal costs into one flat rate, we also review state laws and local landfill regulations you'll need to keep in mind. Let's break down the types of fees you might see on your bill and how to avoid them.
What Is a Disposal Fee?
Disposal fees happen when the landfill charges extra for certain materials because they require special handling. You may also see disposal fees if you toss an item that the landfill does not accept. If you're unsure if you can throw out a particular item, call our team at 877-814-9748.
Average Cost: $15 - $100 per item
Don't Toss Restricted Items
When you set up your rental, we'll review the costs of adding prohibited items to your dumpster. However, to dodge a fee, watch out for these common items that often result in additional charges.
Bulk Waste
Some landfills charge more to sort and process recyclable items, like appliances and electronics, or large trash, like mattresses and upholstered furniture.
Mixed Debris
If you rent a special-use dumpster, like a container only for concrete or yard waste, the sorting facility may not accept it if they find other items inside.
Hazardous Waste
Items like batteries and paints are prohibited from landfills for environmental and safety reasons. Instead, look for a hazardous debris site near you.
What Is a Trip Charge?
You'll be charged a trip fee to cover fuel costs and route delays if the truck driver cannot drop off or pick up your dumpster due to obstacles that interfere with service.
Average Cost: $150
Tips to Prevent a Trip Charge
Give Delivery Instructions
Provide detailed delivery instructions to make sure the driver places the dumpster where you need it. There will be a trip fee if we need to return to relocate the container.
Check Height Requirements
The delivery truck needs 18 feet of vertical clearance to drop off a dumpster. Choose a spot with no low-hanging tree branches or power lines that would prevent delivery.
Don't Block the Way
Keep the area clear of vehicles and other obstacles that could block dumpster placement, and unlock gates so the delivery location is accessible to the driver.
What Is an Overage Charge?
When you rent a dumpster, your price includes the container, disposal fees from the landfill and a certain amount of weight. If you go over that weight limit, the landfill typically charges a rate per ton.
Average Cost: $45 - $175 per ton
Rent the Right Dumpster
To avoid unexpected fees, we'll help you choose the right dumpster size for your debris and review all of the associated costs. You may even decide to factor a potential overage into your budget if you don't think you'll have enough debris to warrant a larger container or an empty-and-return.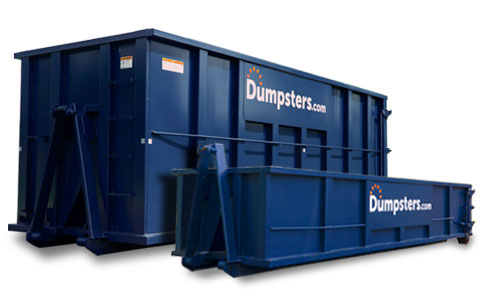 What Is an Overloading Fee?
If debris is overflowing or hanging over the sides of the dumpster, it cannot be safely transported to the landfill. Debris could fall out, causing personal injuries or property damage.
Average Cost: $150 + the price of a new container (if needed)
Keep Debris Level With the Fill Line
Follow these tips when loading your dumpster to avoid acquiring a fee for a container that's too full.
Remember the weight limit.
Load debris evenly, filling gaps.
Place bulky items at the bottom.
Break down boxes or large pieces.
When Do Extension Fees Apply?
Our generous rental periods typically range from 10-14 days, giving you the freedom to clean up on your schedule. But we're flexible if you need extra time. Just let us know, and we can extend your rental for a low daily rate.
Average Cost: $10 - $35 per day
Let Us Know When You're Ready for Pickup
We won't pick up your container until you let us know you're done filling it up. To avoid extension fees when you don't need extra time, make sure to contact us on or before the last day of your rental period, and we'll remove the dumpster promptly.
Other Fees
What Is a Cancellation Fee?
If you need to cancel your order, the amount of the charge will depend on when you let us know about the cancellation.
Average Cost: $25 - $150
Average Costs and Schedule of Dumpster Fees
The prices below show the average cost of each type of fee outlined above and when you can expect to be charged. These costs can be dependent on several factors, like location, debris type and the particular situation, so exact charges may vary. Follow the tips we provided to help you avoid these charges and lower the cost of your dumpster rental.
| Type of Fee | Average Cost | When Will I Be Charged? |
| --- | --- | --- |
| Disposal Fee | $15 - $100 per item | After disposal |
| Trip Fee | $150 | After attempted delivery or pickup |
| Overage Charge | $45 - $175 per ton | After disposal |
| Overloading Fee | $150 + the price of a new container (if needed) | After attempted pickup + new scheduling |
| Extension Fee | $10 - $35 per day | At time of scheduling |
| Cancellation Fee | $25 by 3 p.m. the business day before, $150 day of | At time of cancellation |
| Dig Out Fee | $75 | After disposal |
| Tow Fee | Varies by market | At time of tow |
| Wait Fee | Varies by market, typically charged per hour | At time of wait |
Dumpster Fees FAQs
How are dumpster rental fees charged?
When you set up your dumpster rental, we'll ask for payment information that we keep on file. If you incur a fee, it will be processed to the credit card on file. Then, you'll receive an invoice via email notifying you of the amount of the charge and the reason.
What happens if I overload the dumpster?
If you overload your dumpster, the average charge is $150. However, you'll also likely need to order another container and offload whatever items couldn't fit below the fill line.
If I acquire a fee, when will it be charged?
All fees, aside from overage charges, are billed as they occur. Overage charges, however, are usually received between two and ten weeks after pickup. This is because we are on a 30-day billing cycle with most landfills and have to wait to get the charge back from them before we can notify the customer with the correct fee amount. Our team is continuing to push to cut this down to no more than a 60-day delay.
More Dumpster Resources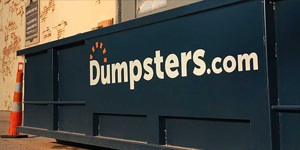 Resources: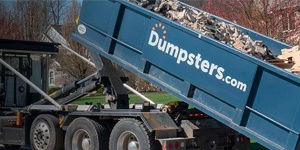 Articles: