Key Stats
53 Service Areas
on the East Coast
580+ Dumpsters
Rented in 3 Years
About Homefix Custom Remodeling

For over 30 years, Homefix has been a leader in the home remodeling industry. A GAF-certified roofing contractor, they specialize in protecting, improving and elevating the value of a home.
But the poor service provided by the various haulers they worked with caused them to lose time, face increasing costs and deal with unhappy customers.
Then Dumpsters.com helped solve all three problems for them.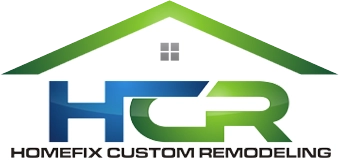 Website: https://Installservices.net
Industry: Residential Construction
Headquarters: Laurel, MD
Type: Roll Off Dumpsters

Homefix Faced Three Major Challenges
As Homefix expanded their services to other regions, they couldn't find a reliable resource for waste management.
While using multiple local haulers, Homefix experienced three particular problems that hurt their reputation and ultimately, their bottom line.
Wasted Time
Frequently, Homefix would have trouble reaching enough haulers to cover their work projects – and even after they'd rented containers, more time would be wasted resolving delivery or pickup issues.
Miscommunication with these haulers resulted in dumpsters being sent to the wrong place or not on time.
"I would spend 2-3 hours a week tracking down dumpsters and ensuring they were removed," said Bridgett Bell, a siding department coordinator at Homefix.
"Sometimes we would have to wait days for a dumpster to be available, and at that point, it was too late, and I would have to have one of our runners take a dump trailer to clean up jobsites," she added.
Hefty Costs Caused by Poor Service
The unreliable service delivered by their various hauling companies also affected them financially.
Since Homefix's waste providers didn't use their best judgment when dropping materials, didn't follow placement instructions and damaged their customers' yards, they had to pay to fix the issues.
"We would first have to send a project manager out for photos, cover up any huge holes, lay seed down – we were spending money for others' errors," Bell explained.
Unhappy Customers
Because the various haulers they used often wouldn't communicate when they couldn't drop off a dumpster, Homefix ran into a third problem: unsatisfied customers.
"This was very frustrating for us and for our homeowners," Bell said. "Homeowners would call in to me personally or to our Customer Care line and would complain at least 1-2 times a week."
"No one was meeting our standards as far as customer service and communication…. We would be fined by our contracting team for trash blowing in the yard, [and] I would then have to send one of our runners to clean up, which was costly to the company…. Customers were super unhappy when things were damaged, and we would have to pay for yards to get fixed every month."
Bridgett Bell, Siding Department Coordinator | Homefix Custom Remodeling
Three Solutions With One Provider
Since the situation was costing time, resources and manpower that it shouldn't have, Homefix needed a partner with centralized management for renting, but a wide reach for supplying dumpsters.
That's why they turned to Dumpsters.com. Through their contractor services program, Homefix gained access to three main solutions that helped resolve their main challenges.
1. One Account Manager
Dumpsters.com assigned a dedicated account manager, Ryan Beard, to Homefix for all their dumpster rental needs. Having one point of contact for all their jobs simplified communication and service issues.
2. A National Network of Trusted Hauler Partnerships
By working with Dumpsters.com, Homefix could easily tap into their expansive network of waste vendors across all 50 states.
That way, they not only could work with vetted and reliable providers, but also take advantage of Dumpsters.com's large inventory and national purchasing power.
Plus, using Dumpster.com's national network allowed Homefix to continue their expansion while making customer complaints for missing or overflowing dumpsters a thing of the past.
3. A Custom Ordering Process Including Weekly Reports
Homefix transformed their dumpster ordering process and maximized efficiency working with their account manager (Beard) and their account executive, Joe Nickels.
After assessing their waste needs, Nickels and Beard put together an ordering template. This ordering system erased miscommunications and set up multiple jobsites with dumpsters in minutes instead of hours.
Beard also sends Homefix weekly reports so Homefix knows when and where dumpster deliveries are made regularly.
Bell reported that these weekly job reports are "super helpful." She continued: "When we are busy or having a rough week, it's much easier to review this spreadsheet and reply with anything that is ready to be picked up."
"Using Dumpsters.com has made life easier.… Response times are quicker, and I truly feel like the team jumps on emergencies with urgency."
Bridgett Bell, Siding Department Coordinator | Homefix Custom Remodeling
The Results
Since working with Dumpsters.com, Homefix has expanded into four states and gained several benefits.
1. Time Savings
Bell stated that her department got back 2-3 hours a week previously spent tracking down haulers, scheduling dumpsters and answering customer complaints. Now, her account manager sets up orders in just minutes and handles any dumpster-related queries that may arise.
2. Cost Savings
Homefix has also saved money. By using Dumpsters.com's reliable hauler network and having one account manager, their service issues have declined. As a result, they no longer need to spend money to fix properties, send their runners to clean up or pay fines to their contracting team.
3. Increased Efficiency
As they've grown, Dumpsters.com has proven to be a reliable partner because they optimized their ordering process in ways multiple haulers couldn't.
They have resolved multiple jobsite inefficiencies and created accurate records for Homefix – two necessities for a growing company.
What's more, Bell and her colleagues can leverage weekly reporting to better track their orders.
And by improving timely deliveries and ensuring that all order/placement instructions are noted and followed, Homefix has fewer issues and complaints.
Overall, Homefix can rest assured that wherever they work, they have a dependable provider they know they can count on.
"I feel like Ryan [our dedicated account manager] and Joe [our dedicated account executive] truly care about us as customers. They are always going above and beyond. We appreciate Dumpsters.com and look forward to continuing to work with your company!"
Bridgett Bell, Siding Department Coordinator | Homefix Custom Remodeling
Let Our Single Point of Contact Optimize Your Work Today
Do you have multiple problems with using several local haulers at once? Simplify your waste removal and grow your company by calling today. Reach out now to speak with our team.