What Size Dumpster Do You Need?
If you're looking for a roll off dumpster, think about what you're tossing and the scale of your project. A small 10 cubic yard dumpster will get the job done if you're cleaning out a spare bedroom or remodeling a half bath, while large home cleanouts and demolition jobs may require a 40 yard container to handle the weight of your debris. We'll help you determine how much dumpster volume you need to get the job done.
Need a bin for your business? View our front load dumpster sizes.
3 Factors to Select the Right Size
Choosing the correct dumpster size is important to keep your project on track and on budget. A container that's too large for your job can cost you more than necessary, while overloading a small bin may result in additional fees. Our team will help you select a bin that's just right.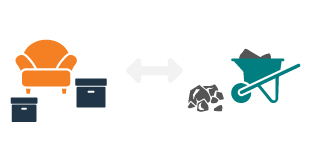 Type of Debris
We'll help you select the right container for what you're tossing, whether it's household junk or construction debris. We also offer special bins for heavy materials like dirt and concrete.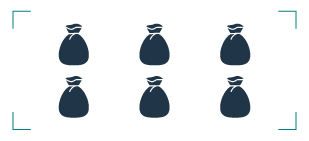 Total Volume
Dumpster sizes are reflected in yards. As a general rule of thumb, one cubic yard is equal to 5-6 13-gallon trash bags. We'll review the total volume and dimensions of each dumpster to help you decide.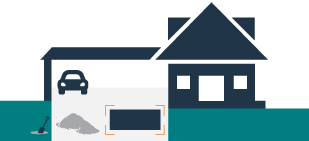 Delivery Location
We deliver to tight areas every day, but sometimes that means you'll need to order a smaller container to fit. If space is limited on your property, ask about our swap-out service to handle the debris.
Find Dumpster Sizes Near You
Typical Roll Off Dumpster Volumes and Dimensions
| Container Volume | Standard Dimensions | Weight Limit |
| --- | --- | --- |
| | 14 ft x 7.5 ft x 3.5 ft | 4,000 – 6,000 pounds |
| | 16 ft x 7.5 ft x 4.5 ft | 4,000 – 6,000 pounds |
| | 22 ft x 7.5 ft x 4.5 ft | 4,000 – 6,000 pounds |
| | 22 ft x 7.5 ft x 6 ft | 7,000 – 10,000 pounds |
| | 22 ft x 7.5 ft x 8 ft | 10,000 – 12,000 pounds |
Note: Weight limits and exact dimensions may vary by location, but total volume is accurate.
See How Big of a Dumpster Your Project Needs
Our roll off containers streamline cleanups from a wide variety of jobs, from drywall and tile disposal to furniture and appliance removal. Find your project below to see the typical dumpster size that we recommend to manage the debris.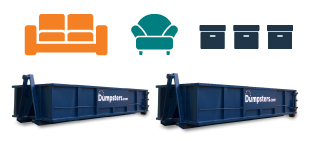 Home Cleanouts
Common size: 15 or 20 yard
From junk removal projects to preparing for a move, our 15 and 20 yard containers fit comfortably in most driveways for convenient disposal.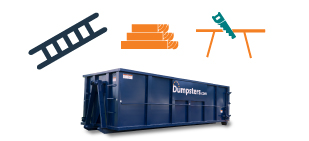 Remodeling
Common size: 30 yard
Whether you're a homeowner updating a kitchen or a contractor managing multiple job sites, our 30 yard dumpsters offer higher walls to contain debris.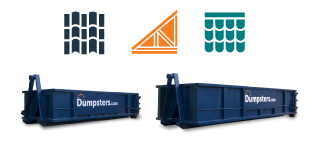 Roofing
Common size: 10 or 20 yard
From slate to asphalt, the weight of roofing shingles adds up fast. We typically recommend a 10 or 20 yard container to help you avoid exceeding the weight limit.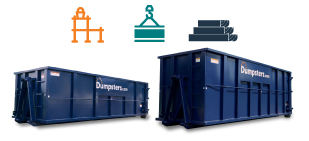 Construction
Common Size: 30 or 40 yard
Whether it's a residential or commercial job, our 30 and 40 yard containers offer the volume you need to clean up large amounts of construction debris.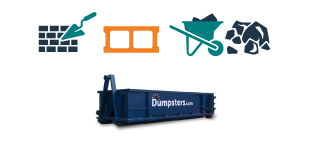 Heavy Debris
Common size: 10 yard
For materials like concrete and brick, we'll typically recommend a 10 yard to safely haul heavier loads on the road and keep you from exceeding your weight limit.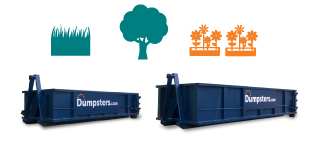 Landscaping
Common Size: 10 or 20 yard
We recommend tossing leaves, weeds and brush in a 20 yard container. For heavier waste like stumps and dirt, a 10 yard will help you stay within the weight limit.
Don't see your project listed? We'll find the right size for you.
Expert Advice From Start to Finish
When you contact our team, we'll help you choose from our various bin sizes and types to get the right waste removal solution for your needs.
Attentive Service
We'll ask specific questions including the location, debris type and delivery dates to understand your unique disposal needs.
Precise Delivery
Our cutting-edge mapping software identifies obstacles like hanging wires or tree limbs to plan for seamless placement.
Straightforward Terms
We'll review the weight limit, prohibited items and other details associated with your container size over the phone and email.
Guides to Help You Pick a Dumpster Size
Use these helpful references to learn more about the dumpster rental process, how many containers you need and to determine the right size.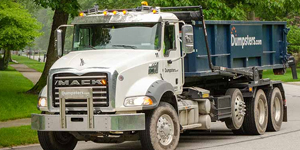 Resources to Pick a Size: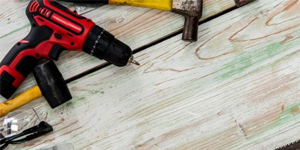 More Project Tips: