A Simple Guide to Washing Machine and Dryer Disposal
Whether your old dryer isn't heating like it used to or you're looking to upgrade your laundry room with a more energy-efficient washing machine, you need to figure out what to do with your old ones. You're in luck — there are a lot of disposal and recycling options available for your old washer and dryer. It comes down to the condition of the appliance and any local regulations.
Click a disposal option below to see if that method works best for you.

Safety Tip
Regardless of the disposal method you choose, you'll need to disconnect the washer from a water supply, and the dryer from natural gas if it's attached. Be sure to shut these lines off before detaching any of the hoses. Not sure how to do either? Call a professional for help.
1. Sell Them
The market for second-hand washing machines and dryers is quite strong. That's because, when cared for properly, these appliances are made to last for 10-15 years, making them a great option for anyone who buys old washers and dryers. Gently used washers and dryers can be purchased for a fraction of the cost of a new machine while still getting the job done. Additionally, with the energy efficiency boom starting in the late 2000s, it means most second-hand machines can help cut down on your energy bills.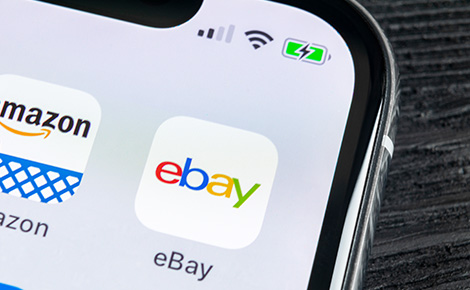 Washer Pricing Tips
Consider this checklist when comparing prices with other second-hand washers you see on the market:
How old is the unit?
Is the unit a top or front load?
Does it have a cleaning cycle?
What's the washer's capacity?
Does it take liquid or solid detergent?
Has the washer had any major repairs?
Are you including water and drain hoses?
Can you add fabric softener, bleach or other cleaning aids?
Dryer Pricing Tips
When debating how to set the price of your used dryer, answer these questions to find the best price:
How old is the unit?
What's the dryer's capacity?
How many cycles does it feature?
Does it have auto-sense abilities?
Does it have a damp-dry indicator?
Has the dryer had any major repairs?
Is the dryer gas- or electric-powered?
Are you including the exhaust vent tube?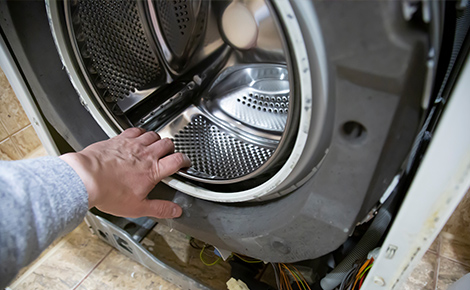 2. Find a Recycler
Most washers and dryers are made of steel, which can be recycled and reused to make new products. Some recycling programs will offer cash in exchange for old washing machines and dryers, but you may need to disassemble them first.
You can also check with your washer and dryer retailer to see if they'll remove the units and recycle them for you when you buy your new set.

Pro Tip
If you're looking to maximize your earnings, you'll need to disassemble your machine and sort it by material. Learn everything you need to know about metal recycling with our scrap metal disposal guide.
3. Donate Them to Charity
If your washing machine and dryer are still in working condition, consider donating them to a charity to help people in need. Whether you pick a larger center, like The Salvation Army, or opt to donate to a local women's shelter or animal adoption agency, your generosity will not be forgotten by those it helps.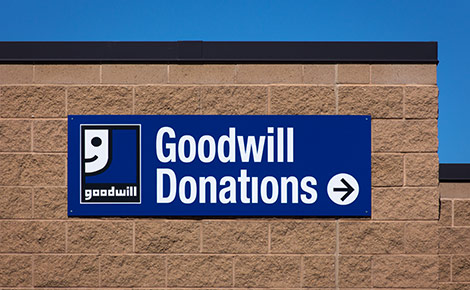 Washer Donation Tips
Give the outside a brief clean.
Run a sanitizing and cleaning load.
See if the facility can pick up your washing machine.
See if the facility would like the water and drain hoses as well.
Ensure the organization knows you're only donating a washing machine if you aren't giving them a combo deal.
Dryer Donation Tips
Clean out the lint trap.
Give the outside a brief clean.
See if the facility can pick up your dryer.
See if the donation center would like the vent tube.
Make sure the charity needs your type of dryer — either gas or electric.
Ensure the organization knows you're only donating a dryer if you aren't giving them a combo deal.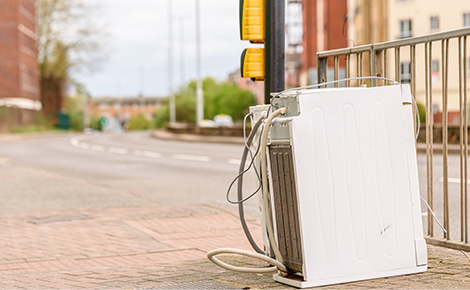 4. Research Curbside Pickup Options
Most curbside trash companies will accept washers and dryers, but only with prior approval or during bulk pickup weeks. While this may seem to be the most convenient option, you'll need to pay attention to your area's rules. For example, if you're only allowed one bulk item on bulk collection day, you can only put out your washer or dryer — not both. Additionally, some municipalities will have rules about if the doors need to be secured or detached and may require you to remove some of the electrical components.
5. Hire a Junk Removal Company
Junk removers come in handy when you have items you're unable to move yourself. A company will come out to your home and load your washer and dryer into their truck and take it away. However, if you don't have additional items, going with a junk hauling company may not be the best match. They charge you for the truck space and with only two items, you may be stuck paying for any unused space in order to get on the schedule.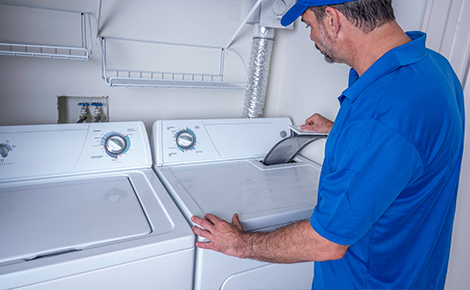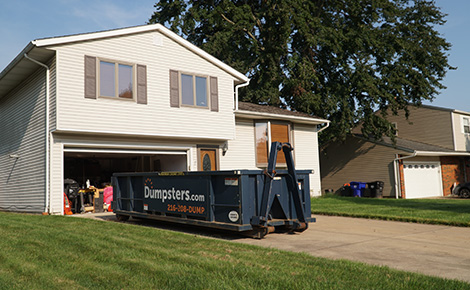 6. Rent a Dumpster
Renting a dumpster is a great option when you're tossing your washer and dryer as part of a laundry room remodel or home cleanout. Residential dumpsters can be delivered right to your driveway, shortening the distance you need to move your washing machine or dryer and feature a door to make loading it a breeze. If renting a dumpster sounds like a fit for your needs, remember to ask if there are any additional fees for washer and dryers, as some areas have government restrictions on appliances at landfills.
Search Dumpster Services Near You
Washing Machine and Dryer Disposal FAQs
When you buy a washer, do they take the old one?
Not all the time, and it's not guaranteed to be a free service. Lots of major retailers, like Home Depot, Lowe's and Best Buy, offer a recycling service where they'll take your old washer and dryer for a fee when dropping off your new one. For free options, consider checking with local donation and utility companies.
How do I get rid of my washing machine for free?
The two easiest ways to get rid of your washing machine and dryer for free are donating and selling. Both options can include having someone else come and pick up the items so you won't even have to pay for gas to haul them.
How much is a washer and dryer worth in scrap metal?
Scrap metal prices change daily, so giving an exact price is hard to do. However, you can probably expect around $5 - $10 for each machine.
Scrappers will price the metal at a per-pound rate for the lowest-priced metal if you bring the machines in without breaking them down. If you disassemble them, you may earn a few more dollars by scrapping each type of metal separately.
How long should a washer and dryer last?
The average lifespan for a washer and dryer is 10-15 years when used according to the manufacturer's instructions and with routine cleaning and maintenance.
Additional Disposal and Recycling Resources
Looking for some other tips on laundry room projects, energy-efficient appliances and other disposal needs? Check out the advice in some of our blog posts, resources and disposal guides.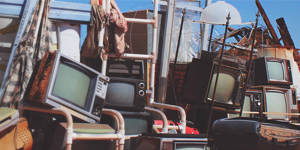 Bulk Waste Disposal Guides: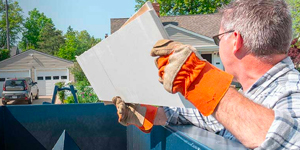 Dumpster Rental Resources: