Rent a 2 Yard Dumpster for Your Business or Organization
Perfect for smaller businesses, a 2 yard dumpster is easy to place and convenient to fill. A 2 yard bin is the smallest front load option, and its compact dimensions make it ideal for businesses and other commercial properties with limited space and minimal trash loads.
These dumpsters can be placed almost anywhere, as long there is enough space for a garbage truck to pick it up. Thanks to its size, this dumpster can be delivered to both parking lots and alleyways, making it a smart choice for buildings that need to keep a dumpster in a tight space.
How Big is a 2 Yard Dumpster?
Dimensions - 6 feet x 3 feet x 3 feet.*
Capacity - 2 cubic yards of material, or roughly 24 regular trash bags.
Weight Limit - Up to 400 pounds.
*Exterior dumpster dimensions may vary by manufacturer but total volume is accurate.
Call Now for Pricing in Your Area


877-880-5286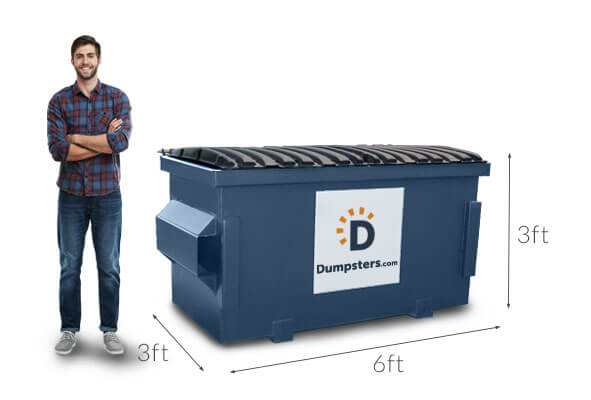 Will a 2 Yard Container Work for My Business?
A 2 yard dumpster rental is best for organizations that produce a relatively small amount of waste, but not so small that they could get by with a couple garbage cans. Also keep in mind these dumpsters are intended for common non-hazardous waste disposal. This includes cardboard, food waste, paper, plastics and other non-bulk materials.
We Recommend 2 Yard Dumpster Rentals for These Organizations:
Small restaurants and diners.
Office buildings with up to 20 employees.
Apartment complexes of six family units or less.
Convenience stores.
If you're not sure that a 2 yard container fits your needs, call our team at 877-880-5286. Our expert staff can help you select the appropriate size for your business and recommend a pickup schedule that works for you. Our goal is to make waste removal as simple as possible, so we take the time to walk you through the process and are always available to answer any questions.
How Does Renting a Dumpster Work?
We've streamlined the dumpster rental process to get you the container you need fast. Give us a call, and an experienced team member will help you decide if a 2 yard container is appropriate for your business. Here's what you will discuss when setting up your rental:
Flat-Rate Price: Our monthly rates and what they cover.
Pickup Schedule: How often your dumpster will be emptied.
Placement Instructions: Where your dumpster will be delivered. Please keep in mind that the area will need to be accessible to our delivery trucks.
Contract Agreement: We'll go over the contract section-by-section with you so you are familiar with our terms and conditions.
How Much Does a 2 Yard Dumpster Cost?
The price of a front load dumpster rental is based on several factors, including the location of your business and local disposal fees. No matter where your business is located, the cost for your commercial dumpster will remain at a flat rate month-to-month, so you'll always know exactly what to expect on your bill.
Please keep in mind that if you ever need to switch dumpster sizes, there will be a one-time removal and setup fee for swapping them out.
How Often Will My Dumpster Be Picked Up?
When setting up a 2 yard dumpster rental, you will choose from a weekly, bi-weekly or monthly pickup schedule. One of our service representatives can help you decide how often your dumpster should be emptied based on your trash production.
If you ever need to modify your pickup schedule, just call our office and a team member will update your rental agreement.
Are There Additional Features I Can Add to My Rental?
For all of our front load dumpsters, you have the option to order a lock bar to prevent others from using your bin. Wheels are also available as an add-on feature for 2 and 4 yard dumpsters to easily move your container if needed. Keep in mind that these features will be an additional cost within your rental agreement.
What Contract Lengths Are Available?
2 yard bin rentals come with a 12-month contract, giving you more flexibility than traditional agreements, that typically range from 3-5 years. With this shorter contract length, you can more easily move locations or plan for other changes in your business.
What Materials Can I Throw Out in My Dumpster?
Due to their smaller size, 2 yard dumpsters are ideal for disposing of general trash, packing supplies, office materials and other items. However, if you regularly dispose of bulk equipment, consider going up a size. To avoid additional fees, do not throw away any prohibited items in your container. If you have any questions or concerns, please call our team for a detailed explanation of what can and can't be placed in your dumpster rental.
Prohibited Items:
Oil
Appliances
Tires
Car batteries
Liquid chemicals
Air conditioners
Drum containers
Bio-hazardous waste
Roofing debris
Concrete and asphalt
Brick
Construction materials
Not Enough Room in a 2 Yard Dumpster?
If you decide that the 2 Yard boxes are too small, we also offer a range of larger commercial dumpster sizes. A 2 yard dumpster is the smallest front load size, but we also rent 4 yard, 6 yard and 8 yard dumpsters for businesses who produce a larger volume of waste.
Size
Information
4 Cubic Yards
Dimensions: 6 feet x 4.5 feet x 4 feet.
Weight Limit: Up to 800 pounds.
6 Cubic Yards
Dimensions: 5 feet x 6 feet x 6 feet.
Weight Limit: Up to 1,200 pounds.
8 Cubic Yards
Dimensions: 6 feet x 6 feet x 7 feet.
Weight Limit: Up to 1,600 pounds.
*Please note: weight limits can vary by location.
**Exterior dumpster dimensions may vary by manufacturer, but the total volume is accurate.