What Is a 6 Yard Bin?
A 6 yard front load dumpster is a permanent container for locations like apartment buildings and warehouses that produce a large amount of waste and have enough space on-site to place it. Call to see if a 6 yard bin is right for your organization.
Looking for a temporary rental for a home project? Browse through our various roll off dumpster sizes.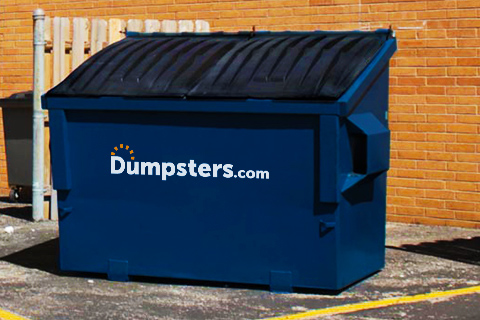 Why Choose Dumpsters.com?
One Point of Contact
Need to ask a question about an invoice or change your pickup frequency? Reach out to your account manager for anything waste-related.
Predictable Pricing
Our flat-rate, transparent dumpster prices bundle all related costs together — including disposal and environmental fees — so it's easy to budget.
Recycling Containers
We also offer single-stream recycling and cardboard-only dumpsters so you can meet your sustainability goals.
6 Yard Dumpster Dimensions
A 6 yard container is typically 6 feet long, 5 feet wide and 6 feet high. Dumpsters this size hold 6 cubic yards of trash, which is comparable to about 36 33-gallon trash bags or 12 96-gallon garbage cans.
6 Yard Dumpster Rental Price
The price of a 6 yard dumpster rental will differ depending on the debris type, your location, local disposal fees and how often you want your bin serviced. The cost of your rental includes your delivery, regularly scheduled collections, recovery charges and more. Contact our team to learn more about the exact pricing for commercial dumpster service.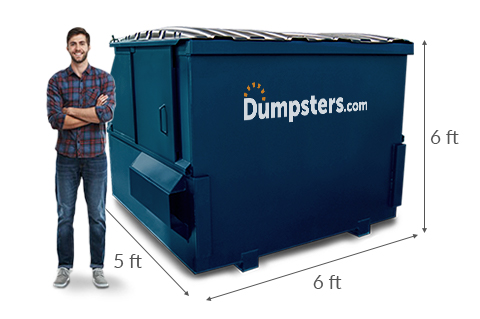 Weight Limit of Your Bin
A 6 yard container holds 6 cubic yards of garbage, but usually no more than 1,200 pounds.
Keep in mind that the weight of your trash adds up fast. Discuss your regular waste stream with your account manager to decide on a bin with the capacity you need to avoid overage charges.
Available Features for Your Container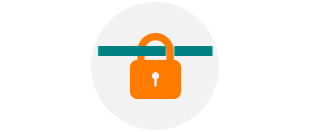 Lock Bars
Add a lock to your bin to keep your trash inside it, keep animals out and  
prevent illegal dumping.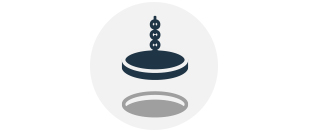 Drain Plugs
Liquid waste that leaks out of your dumpster can be a health hazard. Protect your container by adding a drain plug.
Not Sure What Size to Choose? Request a Waste Audit
Get a free audit to see if the 6 yard bin is best for you — plus learn simple ways to reduce costs.
1. Contact Us
Fill out a form or give us a quick call to get started.
2. We'll Evaluate Your Waste Stream
Our team will analyze your recycling rates, pickup frequency and more.
3. Save Cash on Your Trash
We'll show you steps you can take to cut your waste costs.
6 Yard Containers Are Great for:
6 Yard Dumpster FAQs
What size is a 6 yard bin?
A typical 6 yard dumpster is 6 feet long x 5 feet wide x 6 feet high. Note: Though the total volume is always the same, the exact dimensions may vary by manufacturer.
How wide is a 6 yard dumpster?
A 6 yard container is usually 6 feet wide depending on the manufacturer. Due to its width, you'll want to make sure you have enough room around your bin so haulers can safely access it any time.
How many tons does a 6 yard dumpster hold?
6 yard bins can hold about 0.6 tons (1,200 pounds) of trash. This works well for businesses with larger waste streams like hotels and warehouses.
How much weight can a 6 yard dumpster hold?
You can place up to 1,200 pounds of trash in a 6 yard dumpster. It's important that you don't overload your container – be mindful of the weight limit set in your agreement to avoid overage fees.
How much does it cost to rent a 6 yard commercial dumpster?
The cost to rent a 6 yard bin will depend on your location, debris type and trash pickup frequency. Give us a quick call to find out the cost of commercial dumpster service in your area.
What does a 6 yard dumpster look like?
A 6 cubic yard dumpster is one of the biggest front load sizes available. It is usually made out of steel, and at 6 feet high, it will probably be taller than many of your employees. The opening is lower than 6 feet, though, so loading trash is easy no matter how tall you are. These permanent bins also have lids for convenient business trash disposal.
Commercial Trash Pickup Tips
Enclose Your Dumpster
Build a corral around your bin out of wood, concrete, metal or chain link fencing to keep trash from blowing around your property.
Don't Toss Hazardous Waste
Need to dispose of items like fuel or batteries? These materials are prohibited in 6 yard bins. Bring them to a hazardous waste drop-off site instead.
Don't Overload Your Bin
Make sure all of your trash fits inside your dumpster and that you can close the lid. If it's overflowing, you may have to pay an overloading fee.