What Is a 4 Yard Bin?
A 4 yard commercial dumpster is a permanent bin that is used for ongoing trash collection at one location. Whether you own a convenience store or manage an apartment complex, our dedicated team will monitor your waste stream to keep your properties clean. Call to see if a 4 yard trash container is best for you.
If you're a homeowner, we have various roll off dumpster sizes for short-term projects like cleanouts or remodels.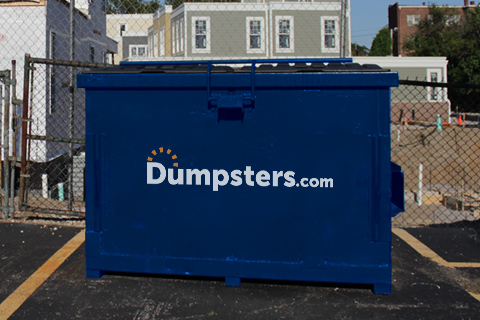 Why Choose Dumpsters.com?
One Point of Contact
You'll have one dedicated account manager who'll manage all aspects of waste removal for you, including orders, pickup and billing.
Upfront Pricing
Easily budget for your trash and recycling pickup with our transparent prices, which bundle all costs – including environmental fees – into one flat rate.
Centralized Billing
Our consolidated invoices simplify your accounts payable process. No more tracking down invoices – we'll send you one monthly bill for all your locations.
4 Yard Dumpster Dimensions
The typical size of a 4 yard bin is 6 feet long, 4.5 feet wide and 4 feet high. It holds 4 cubic yards of garbage, which is equal to about 24 33-gallon garbage bags, or 8 96-gallon trash cans.
4 Yard Dumpster Rental Price
The national average price of a 4 yard container will vary based on many factors, including your business location, the type of debris being tossed, local disposal fees and the pickup frequency. With us, you'll get a flat rate that combines all applicable fees into one price. Reach out to our team to learn more about commercial dumpster pricing in your area.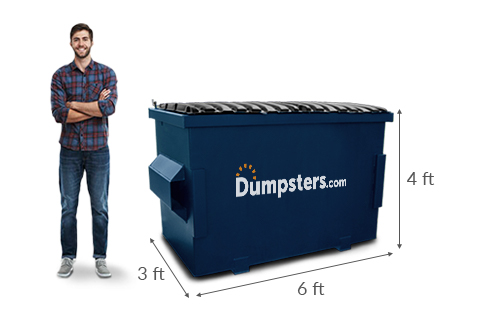 Weight Limit of Your Bin
Our 4 yard dumpsters can hold 800 pounds and 4 cubic yards of garbage, which is covered in your all-inclusive rate.
Even though your price won't change week to week, the weight of your trash might. If you find yourself continually exceeding your weight or volume limit, contact your account manager to swap your bin for a larger size or adjust your pickup frequency.
Available Features for Your Container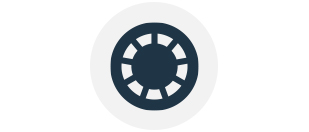 Casters
Add wheels to your bin to maneuver it around tight areas like alleys.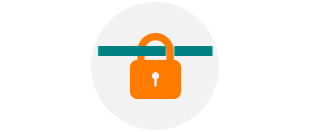 Locks
Avoid illegal dumping by securing your dumpster with a lock bar.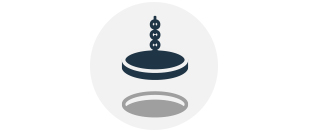 Drain Plugs
Prevent leakages and prepare for health inspections by adding a drain plug.
Not Sure What Size Is Best? Request a Free Waste Audit
We'll look at your waste and identify the right size for your business that meets your budget.
1. Get in Touch
Fill out this form or call us during normal business hours to get started.
2. We'll Analyze Your Data
Our team will assess the waste estimates for your location(s).
3. Reduce Your Waste Costs
We'll show you ways you can lower the amount you pay for your trash pickup.
4 Yard Containers Are Best for:
Retailers
Retail spaces with less than 8 units
4 Yard Dumpster FAQs
What are the dimensions of a 4 yard dumpster?
The usual dimensions of a 4 yard bin are 6 feet long, 4.5 feet wide and 4 feet high. Please note that while the total volume of a 4 yard container will always be the same, the dimensions can vary depending on the dumpster manufacturer.
How much weight can a 4 yard dumpster hold?
4 yard containers can typically hold 4 cubic yards and 800 pounds of trash.
How many trash bags can a 4 yard dumpster hold?
A 4 yard bin can hold around 24 33-gallon trash bags. This is equivalent to about 8 96-gallon garbage cans.
How wide is a 4 yard dumpster?
A 4 yard container is usually 4.5 feet wide, so it's an ideal waste solution if space is limited on your property.
How much does it cost to rent a 4 yard commercial dumpster?
The exact price for your 4 yard dumpster rental will depend on where your business is located, your trash pickup schedule and the debris type. Contact our team to find out pricing for commercial dumpster service near you.
What does a 4 yard dumpster look like?
A 4 yard dumpster is a compact container made of steel or plastic that comes in a variety of colors. It has a lid so you can keep your trash contained. If you stand next to a 4 yard bin, it will be about as high as your waist, or a little higher.
Commercial Trash Pickup Tips
Keep the Area Accessible
To ensure haulers can service your bin, make sure nothing is blocking the delivery area, including snow or debris from storms.
Build a Dumpster Corral
Construct a commercial dumpster enclosure to keep your trash out of sight and stop strangers from throwing unwanted garbage in your bin.
Don't Throw Out Restricted Items
Tell your employees not to put prohibited items in your dumpster like old appliances or batteries so you don't see disposal fees on your bill.