Rent a 4 Yard Dumpster for Your Location
At Dumpsters.com, we love working with small businesses and organizations. Whether you're opening a local shop or managing a small office, you can rely on us to handle your waste disposal needs. Our 4 yard container rentals are perfect for small businesses or non-profits that produce minimal waste. This compact dumpster is also an ideal choice for those with limited space, since it can fit into narrow alleyways.
How Big is a 4 Yard Dumpster?
Dimensions - 6 feet x 4.5 feet x 4 feet.*
Capacity - Will hold 4 cubic yards of materials, or roughly 48 regular trash bags.
Weight Limit - Typically holds up to 800 pounds.
*Exterior dumpster dimensions may vary by manufacturer but total volume is accurate.

Call Now for Pricing in Your Area


877-880-5286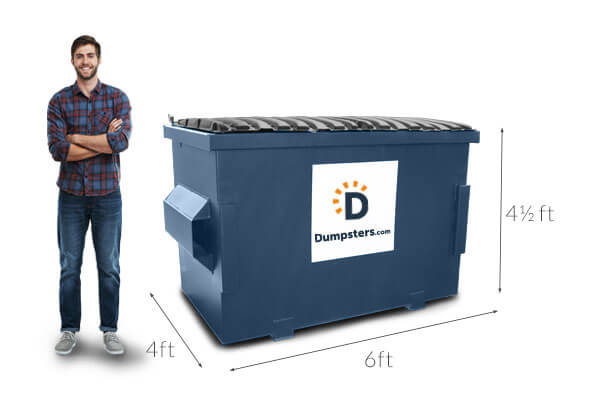 Is A 4 Yard Dumpster Right for Me?
Our 4 yard bins are typically used by businesses that generate common garbage, such as cardboard, food waste, light metals, paper and plastic, but not a lot of bulky trash.
We Often See These Kinds of Organizations Renting 4 Yard Dumpsters:
Small retail shops.
Mid-sized restaurants that see up to 325 customers a day.
Moderately-sized retailers and wholesalers with less than 5,000 square feet of space.
Medium-sized offices and convenience stores.
Need more information about 4 yard containers before you make a decision? Our knowledgeable team can help you choose the right size bin and the best garbage pickup schedule for your business. Our goal is to make trash disposal the least of your worries by offering affordable, flexible services tailored to your needs. Call 877-880-5286 and let us simplify your waste removal process.
How Does Renting a Dumpster Work?
We make renting a dumpster as simple as possible. Our team members will go over the following information with you to help you determine if a 4 yard dumpster is the right choice:
Price: We'll discuss all the costs associated with your rental.
Pickup Schedule: We'll help you choose from weekly, bi-weekly or monthly pickups to arrange a schedule that works for you.
Delivery Instructions: Let us know the best place for your dumpster. Make sure the area is clear and accessible.
Contract Details: We'll clearly explain all the terms and conditions of your contract.
How Much Does a 4 Yard Dumpster Cost?
Commercial dumpster prices depend on your location and local disposal fees. Your customer service representative will go over the costs associated with your rental, including pickup, disposal and local taxes. After that, you can expect straightforward pricing each month at a flat rate that always stays the same. Call 877-880-5286 today for a free quote.
How Often Will My Dumpster Be Picked Up?
Choose from weekly, bi-weekly or monthly pickups. When in doubt, our team can advise you on which pickup schedule would work best for your waste stream. If you ever need to change your pickup schedule, simply call your representative at their direct extension to update your contract.
What Contract Lengths Are Available?
With Dumpsters.com, you won't be locked into a long-term 3 to 5-year agreement. Instead, you'll enjoy the flexibility of a one-year contract. Once you sign your contract, we'll set you up with a convenient auto-pay schedule based on the day of your initial delivery date. We'll always email you a receipt for your records.
Are Add-Ons Available for My 4 Yard Dumpster?
You can add wheels to your 4 yard dumpster to make it easier to move. And to prevent illegal dumping, we can add a lock bar to keep your dumpster safe and sound. Give us a call at 877-880-5286 to get pricing information for these options in your area.
What Can I Throw in My Dumpster?
4 yard dumpsters can handle a wide range of debris, including general trash, food waste, business supplies, boxes and packaging materials. Make sure to avoid tossing prohibited items, such as toxic chemicals and construction materials, into your front load dumpster. To answer any questions you might have, our representatives can explain what you can and cannot place in your dumpster rental.
Prohibited Items:
Oil
Appliances
Tires
Car batteries
Liquid chemicals
Air conditioners
Drum containers
Bio-hazardous waste
Roofing debris
Concrete and asphalt
Brick
Construction materials
Need a Different Size?
We offer a variety of commercial dumpster sizes fit for businesses big and small. Large warehouses and retail complexes typically opt for our 6 or 8 yard containers. If you're looking for a smaller option, our 2 yard dumpster might be right for you. You also have the flexibility to rent as many different sizes as necessary to meet your business's needs.
Size
Information
2 Cubic Yards
Dimensions: 6 feet x 3 feet x 3 feet.
Weight Limit: Up to 400 pounds.
6 Cubic Yards
Dimensions: 5 feet x 6 feet x 6 feet.
Weight Limit: Up to 1,200 pounds.
8 Cubic Yards
Dimensions: 6 feet x 6 feet x 7 feet.
Weight Limit: Up to 1,600 pounds.
*Please note: weight limits can vary by location.
**Exterior dumpster dimensions may vary by manufacturer, but the total volume is accurate.