8 Helpful Construction Apps to Work Remotely From the Job Site
We use mobile devices every day in our personal lives, so why not on the job site? But with so many options at our fingertips, it can be tough to choose the right construction app for your needs. That's why we did the digging, spoke to the experts and created an exclusive list of the most innovative apps to help you stay on budget, manage your time and grow your business.
These are the eight best construction apps to try in 2020.
1. TSheets
TSheets by Quickbooks allows contractors to track their workers' daily schedules straight from the app. Workers can quickly clock in and out from their mobile device, attach real-time photos to document daily progress, equipment used and more.
In areas with limited Wi-Fi availability, you can use the TSheets Time Clock Kiosk on your iPad or tablet like a wall-mounted time clock that can be used by the whole team to track work schedules.
The app's GPS location tracking also allows you to see who's on the clock, where they are and what they're working on, increasing safety and accountability for all of your workers.
"On the administrative side, TSheets integrates seamlessly with your favorite payroll software — shaving hours off your payroll processes and saving you money. Plus, customizable alerts let you and your workers know when they're approaching overtime. And real-time reports allow you to make data-driven business decisions for better job costing and profitability estimates."

Simon Worsfold | TSheets by Quickbooks
2. UpKeep
Broken equipment is always a headache, but UpKeep makes it easier to schedule repairs quickly. UpKeep is the first inventory management app that allows your workers to snap a picture of a broken piece of equipment, manage inventory, create a work order and schedule it for repair – all from your mobile device or desktop computer.
Using an app like UpKeep can minimize the likelihood of a tool-related accident, increase preventative and proactive checkups and prolong the life of your equipment. Plus, the app provides a "paper-trail" for all inspections which saves you from digging around for paperwork when it comes to regulatory compliance.
"UpKeep is a mobile-first solution, meaning workers can be more streamlined when they tackle work orders which makes them twice as productive. It also helps assign work orders making each person more accountable."

Ryan Chan | UpKeep
3. ClockShark
ClockShark is another mobile time tracking and scheduling app designed specifically for construction. The app automatically pulls the time and GPS coordinates, allowing your workers to clock in and out with only a few taps. Workers can also share files and photos to document paperwork and status updates all in one place. All of these features not only help keep your jobs running smoothly but can more accurately measure the time spent on each project, potentially saving you money on project costs.
"ClockShark was designed for construction and field service companies because that is where we came from and we are dedicated to helping those industries be successful. That's why we offer unlimited phone, chat, and email support from our US-based support team and include our customers in our design and feature development decisions. To help companies see if ClockShark is a good fit, we offer a no-risk free trial that doesn't require a credit card."

Reid Givens | ClockShark
4. GenieBelt
Founded in Denmark in 2013, GenieBelt delivers real-time project management, insight and overview for construction. The app specializes in scheduling and connectivity between the office and the field. GenieBelt software can optimize your construction project by offering real-time communication and collaboration abilities, mobile field reporting and easily generated construction reports.
"Overall, it's a quite simple, easy-to-use and money-saving construction software solution you can start your project with. It is available on desktop, both iOS (iPad and iPhone) and Android. Geniebelt has a free trial plan (for one project and 50 project files)."

Ulrik Branner | GenieBelt
5. Sage
Sage Mobile Projects for Sage 300 Construction and Real Estate allows your entire project team to share and access essential project information anytime, anywhere. The app places all necessary information at your workers' fingertips, helping field managers and supervisors to work more efficiently and keep projects on time and on budget.
On top of that, it relieves your office staff from hours of tracking and entering field data into back-office systems. Sage Mobile Projects currently features Daily Field Reports (DFR) and Request for Information (RFI) and will add new capabilities to cover all project management needs in the field.
"Sage Mobile Projects for Sage 300 Construction and Real Estate provides construction companies with even greater confidence and flexibility in using the most complete solution available for managing every stage of a construction project. Teams in the field and the office can now work off the same information so they can make more informed decisions faster and keep projects moving."

Jon Witty | Sage Construction and Real Estate
6. ArchiSnapper
ArchiSnapper is an easy-to-use field report and punch list app that saves architects, contractors, engineers, real estate developers and safety professionals time while drafting reports onsite. Usually prepared at the end of a construction project, a punch list outlines any work that does not meet contract specifications or that the contractor must complete before final payment. With ArchiSnapper, you can photograph your surroundings on the worksite, sketch, annotate and assign tasks – all from your smartphone or tablet. Then you can easily sync all of your notes to the cloud for seamless collaboration with coworkers near and far.
"ArchiSnapper can also be used to collaborate on construction projects via our to-do list, where contractors can assign tasks to subcontractors and ask for feedback, in order to follow up the progress."

Peter Eerlings | ArchiSnapper
7. Procore
Procore is a cloud-based construction project management software that you can use on your phone or tablet, giving you the freedom to move around the job site and stay notified with the most recent project details. The app includes the capability to share job specifications, view project schedules, list observations for quality assurance, track timecards and much more to keep each member of your team in the loop.
"Procore offers both an Android app and an iOS app for construction project management. Its mobile experience has been greatly optimized to quickly navigate between the useful tools and features, streamlining construction workflow."

Vlad Rascanu | Procore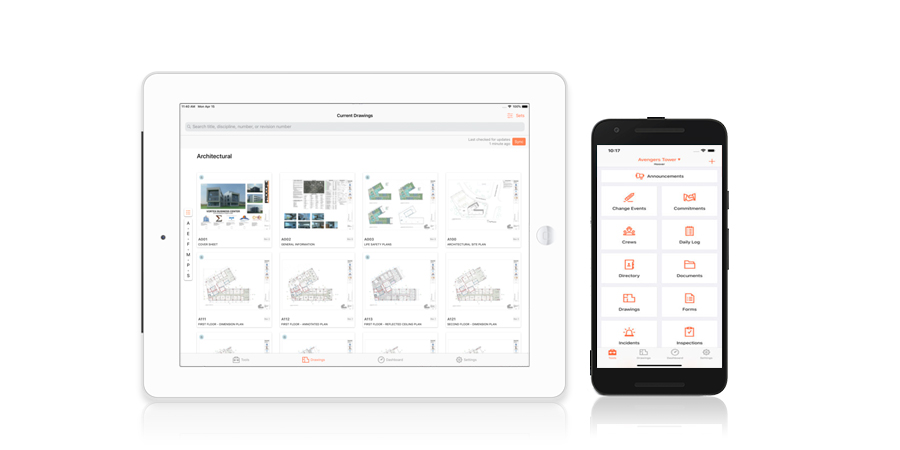 8. Bridgit
An app founded by women, Bridgit is a construction resource management tool that helps increase efficiencies and optimize communication on the job site. The app features scheduling software that allows you to have complete employee oversight to identify schedule overlaps and manage workloads. Plus, you can track, sort and analyze data stored from each of your projects to plan effectively for each job.
"Bridgit Bench is North America's top construction resource management and workforce planning software. It's used by leading general contractors and subcontractors to see who needs a project, what project needs people, forecast future project resourcing needs, and more. Bridgit Bench is great for on-the-go resource planning, available on web, Android, and iOS."

Mallorie Brodie | Bridgit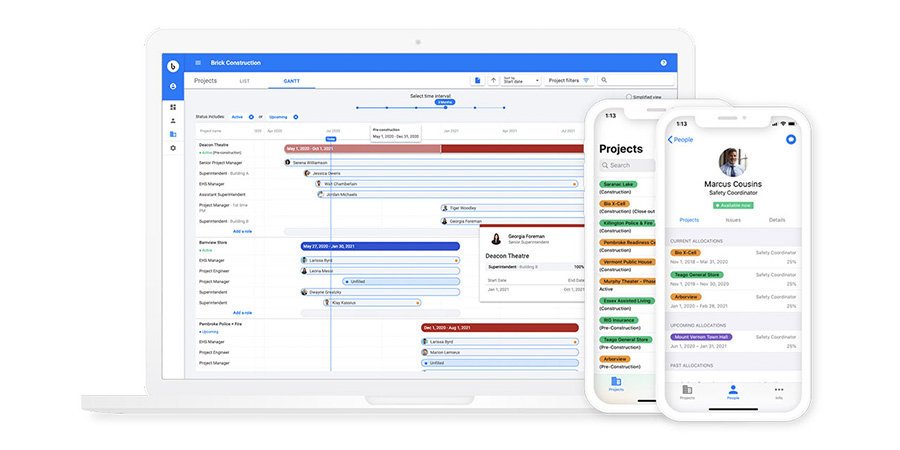 Use Construction Apps to Streamline Your Projects
After you start using these time-saving construction apps, you'll wonder how you ever got the job done without them. For more industry news and tips, check out the Trades and Construction section of our blog.
Do you already use construction apps to help with your daily processes? Let us know your app of choice in the comments below!