Dependable Office Waste Management
We provide simple corporate waste solutions for any size office or business. Our wide range of dumpster sizes, flexible pickup options and straightforward billing allow you to spend less time worrying about waste management and more time growing your business.
With Dumpsters.com, you can expect:
Pickup frequencies that work best for your needs.
Straightforward pricing in an easy-to-understand bill.
Assistance from our expert staff when you call or email.
Four different commercial dumpster sizes to choose from.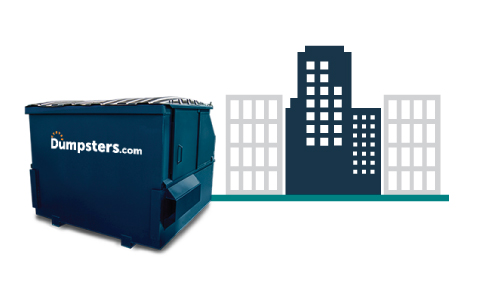 Connect With a Waste Disposal Expert
Dumpster Sizes to Suit Any Office's Needs
We offer four different commercial dumpster sizes to accommodate any amount of corporate waste. Depending on the size of your business and how much office waste you typically produce, we can provide dumpsters ranging in size from small to very large.
If you need help determining which size is best for your particular corporate waste stream, give us a call. Our expert staff will help you make the right call for your specific needs.
Simple and Reliable Disposal for All Corporate Waste
Our dumpsters can haul away nearly all types of corporate waste. This includes common office waste like paper, packaging materials, food scraps and furniture. No matter what type of waste your office produces, you can choose between weekly, biweekly or monthly pickups to ensure you're never left with an over-stuffed dumpster.
Our smaller dumpster sizes feature low walls that make it easy to toss your trash in, while our larger sizes feature sliding doors so that you won't have to strain to toss things in. When you begin your contract with us, our team will fully explain the guidelines for using our permanent dumpsters and work to accommodate your requests. We're always here to help make corporate waste management a simple process.
Corporate Waste Solutions That Fit Your Business
We allow you to arrange corporate waste removal tailored to your specific needs. You choose the dumpster size that best fits your office space. You choose the pickup frequency that best matches the demands of your waste stream. You choose the contract length that makes the most sense for your budget. Contact us today to find customizable corporate waste solutions for your office.