Calculate the Weight of Your Shingles
Shingles are deceptively heavy. As a result, it can be tricky to decide how much roofing material you can throw in a dumpster before you hit your weight limit. Before you start, use our calculator to get an accurate weight for the roofing material you're tossing.
• Three-Tab Asphalt: Come in one size that consists of three separate 12-inch tabs.
• Architectural Asphalt: Available in various sizes and shapes, often with a stacked appearance.
• Slate: Offered in a few colors and sizes, but always has a stone-like appearance.
Our calculator will recommend the most common size dumpster for your debris. Sizes and availability may vary by location.
Call our team at 844-282-4253 to see what sizes are available near you and to place an order.
Shingles Weight Calculator
Estimated weight:
Planning for Shingle Disposal
Shingle dumpsters come in 10, 15 and 20 cubic yard sizes. Depending on the scope of your roofing project, we might recommend multiple dumpsters. In some markets, roofing materials must be kept separate from other debris types. You may need a construction and demolition dumpster for debris like: gutters, shake, cement, flashing or siding.
How Much Do Shingles Weigh?
To calculate shingle weight, you'll need to understand bundles and squares. A square of shingles is a roofing term for 100 square feet of material. It typically takes 3 bundles of shingles to cover a square of roof. While you'll hear both terms, bundle is more commonly used when purchasing shingles, while square is associated with a completed roof or shingle removal.
Keep in Mind: The exact weight per bundle or square of shingles depends on the manufacturer. Also, remember that older shingles will weigh less as they are worn down by the elements over time.
| Type | Average Weight Per Square | Average Weight Per Bundle |
| --- | --- | --- |
| Three-Tab Asphalt | 230-250 pounds | 50-80 pounds |
| Architectural Asphalt | 400-430 pounds | 65-80 pounds |
| Slate | 800-1,000 pounds | Over 300 pounds |
How Many Squares of Shingles Can Fit in a Dumpster?
Depending on the size of the dumpster and the type of shingles you're tossing, you can fit anywhere from 4 to 20 squares of shingles in the container. If you need help deciding on a roofing dumpster size, our team is just a call away to answer your questions.
| Dumpster Size | Asphalt Three-Tab | Architectural Asphalt | Slate |
| --- | --- | --- | --- |
| | Up to 15 squares | Up to 10 squares | 4-6 squares |
| | Up to 15 squares | Up to 10 squares | 4-6 squares |
| | Up to 20 squares | Up to 15 squares | 6-7 squares |
For large roof tear-offs, you can schedule empty-and-return service or rent more than one dumpster to help keep you from overloading the container beyond road safety limits, which could result in overage fees.
Need a Dumpster for Roof Shingles?
We have years of experience providing homeowners, contractors and businesses with a reliable shingle disposal solution.
More Shingle Disposal Resources
Use these helpful resources to guide your shingle choices and to learn more about roofing projects.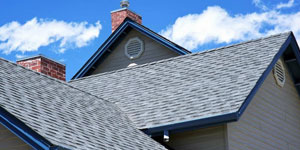 Residential Tips: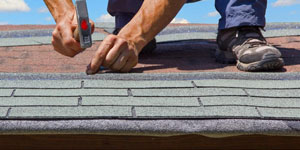 Contractor Resources: