Estimate the Weight of Your Roofing Materials
Find dumpster services in your area

Shingle Weight Calculator and Dumpster Size Finder
Planning a roof tear-off? Enter your details into the calculator to find the approximate weight of your shingles. The calculator will also recommend a dumpster size to haul everything away, but keep in mind that these are estimates and the best size for the job may vary. For a more specific recommendation, give us a call at 844-282-4253 and tell us more about your project.
Need to Calculate Another Debris Type?
Shingles Weight Calculator
Estimated weight: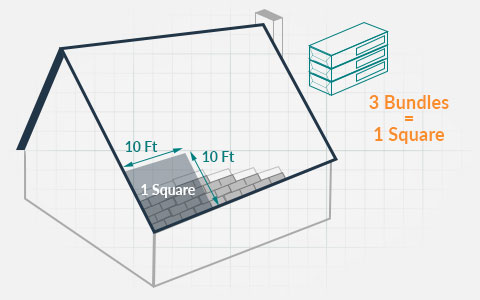 How Much Does a Bundle of Shingles Weigh?
Shingles are sold in "bundles" that will cover a certain square footage of your roof—usually 33.3 square feet. The weight of a bundle of shingles depends on the type of material you're dealing with:
Three-tab asphalt shingles weigh 50-80 pounds per bundle.
Architectural asphalt shingles weigh 65-80 pounds per bundle.
Slate roof shingles weigh much more – sometimes over 300 pounds per bundle.
If you're not sure how many bundles of shingles are on your roof, you can also estimate shingle weight by the square. A common rule of thumb is that the average roof holds at least 30 squares of shingles, assuming there's only one layer.
What is a Square of Shingles?
A "square" of shingles is a roofing term for 100 square feet. To determine how many squares a roof is, just divide its square footage by 100. For example, a 2,000 square foot roof has 20 squares of shingles. It typically takes 3 bundles of shingles to cover each square of a roof.
Shingle Weight Per Square Comparison
The exact weight per bundle and square of your shingles depends on the manufacturer. High-quality shingles with a long warranty often weigh more than shingles with a shorter warranty due to their sturdier construction. Shingle weight also depends on their condition—if they've been worn down by the elements, they may weigh less than ones in better shape. But when you're planning for disposal, a rough estimate is all you need to find the right container for the job.
| Type | Average Weight Per Square |
| --- | --- |
| Three-tab Asphalt Shingles | 230-250 pounds |
| Architectural Asphalt Shingles | 400-430 pounds |
| Slate Shingles | 800 - 1,000 pounds |
How Many Squares of Shingles Can Fit in a Dumpster?
Dumpsters designed to handle the weight of roofing materials typically come in 10, 15 and 20 cubic yard sizes. This chart shows how many squares each roofing dumpster size typically holds. Due to road weight limit restrictions, we don't accept shingles in anything larger than a 20 yard container.
| Dumpster Size | Asphalt Three-tab Shingles | Asphalt Architectural Shingles | Slate Shingles |
| --- | --- | --- | --- |
| 10 Yard | Up to 15 squares | Up to 10 squares | 4-6 squares |
| 15 Yard | Up to 15 squares | Up to 10 squares | 4-6 squares |
| 20 Yard | Up to 20 squares | Up to 15 squares | 6-7 squares |
*Weight limits can vary by location.
For large roof tear-offs, you can schedule empty-and-return service or rent more than one dumpster to avoid overage fees and ensure safe hauling. If your project also involves getting rid of concrete or other heavy debris, please be aware that these materials must be hauled in a separate container.