Dumpster Rentals for Any Campus
Managing the waste of an entire school is a full-time job in itself. Large volumes of trash are thrown out at a rapid pace. That's where we come in, offering a reliable and comprehensive dumpster rental solution for your school's waste management needs.
With Dumpsters.com, you can expect:
Flexible pickup schedules to keep up with demand.
Reliable team members to assist you throughout your rental.
Various sizes to handle waste management for any size school.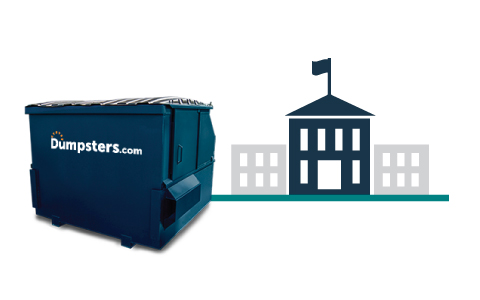 Connect With a Waste Disposal Expert
Find the Right Dumpster Size for Your School Waste
Whether you work for a small private school, a large public school or somewhere in between, we have the right dumpster size for your building. We can also provide multiple sizes for your school. We'll make sure you get one or several of the following sizes so all your waste needs are met.
Managing School Waste the Right Way
Permanent dumpsters provide a consistent and reliable solution for managing school waste. Our dumpster services are able to handle a wide variety of waste and recyclables commonly disposed of by schools. However, certain materials cannot be thrown inside of a permanent dumpster. Our team will ensure you're aware of any prohibited materials and the proper disposal methods to use for them.
Call for more information about how to handle your school's waste from a reliable and knowledgeable provider of waste management for schools.
Set Up a Dumpster Rental for Your School
Call today to start the process of renting a permanent dumpster rental. Experienced customer service representatives are ready to work with you to provide the simplest solution for your school's waste management needs.