How to Read a Commercial Dumpster Bill
Find dumpster service in your area

A Guide to Reading Your Dumpster Bill
Whether you're wondering what specific charges mean, or are unsure when you will be charged for your dumpster, we're here to simplify the process and walk you through reading a commercial dumpster bill.
Take a look at the sample invoice to fully understand how billing works for permanent dumpster rentals. If you still have questions, call our customer service team who will be more than happy to answer your questions.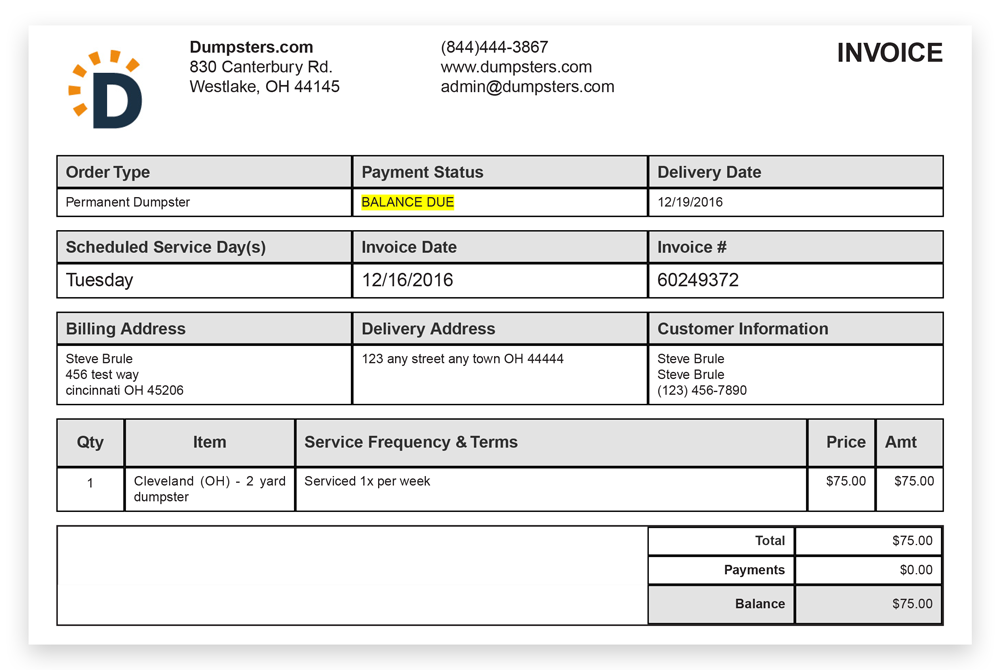 Find Dumpster Prices Near You
Understanding Your Commercial Dumpster Bill: Section by Section
True to our promise of offering a simple and straightforward waste removal service, invoices for commercial dumpster services are clear and easy to read. Here are the main sections to look at on your dumpster bill.
Order Type
This identifies that you are being billed for a permanent dumpster rental.
Payment Status
This will indicate if your invoice is paid in full, or if you have a balance due. Any open charges will be listed at the bottom of the bill under "Payments and Balance".
Scheduled Service Day
This is the day of the week that your dumpster will be serviced. Depending on your business's location, you may be able to choose the day of the week.
Invoice & Delivery Date
The invoice date is the day when you are invoiced, and the delivery date is the scheduled day for your dumpster to be delivered. While the delivery fee will be processed around the time of your dumpster delivery, your credit card will be charged on the first day of the following month.
Customer Information, Billing and Delivery Address
This includes contact information, in addition to the billing and delivery address. Please double check each invoice to make sure that the correct information is provided. If for any reason the information is incorrect, contact your dedicated account manager to update it.
Service Frequency and Terms
This area will detail how often your dumpster will be emptied, either weekly, biweekly or monthly, and the dumpster size.
Potential Extra Fees on Your Permanent Dumpster Bill
Additional fees noted on you bill? Line items that may appear on your monthly bill include:
Add Collections When You Need Them
If you request a pickup outside of the normal waste removal schedule, you will see a line item added to your monthly bill to reflect the charge.