Calculating the Weight of Concrete
When disposing of old concrete, it's important to get the right size dumpster for safe hauling. Use our weight calculator to determine the best size for this project.
Multiply the length by the width to calculate the square footage of concrete.
Keep in mind that concrete is typically poured to be 3-4 inches thick.
Note that this calculator does not account for rebar and gravel that may be part of your project. To get a more specific recommendation, including the number of containers you'll need, give us a call at 844-282-4253.
Concrete Weight Calculator
Estimated weight:
Planning for Concrete Disposal
Please note that if your project involves more than 10 tons of concrete debris, you'll need to rent more than one dumpster. If space allows, you can have multiple containers on-site at once or request empty-and-return service. Our team will help you choose the best concrete removal plan based on the scope of your project and space available on your property.
Pro-Tip: Don't underestimate the weight of concrete. A two-car driveway can hold over 10 tons of concrete depending on its exact dimensions.
How Much Does Concrete Weigh?
The weight of concrete is calculated based on the length, width and thickness of the slab.
Remember: A cubic foot or yard of concrete weighs less once it's broken up due to the empty spaces between the pieces.
Concrete Weight per Cubic Foot
• A solid slab of concrete weighs 150 pounds per cubic foot.
• A cubic foot of broken concrete weighs 75 pounds.
Concrete Weight per Cubic Yard
• A solid slab of concrete weighs 4,050 pounds per cubic yard.
• A cubic yard of broken up concrete weighs 2,025 pounds.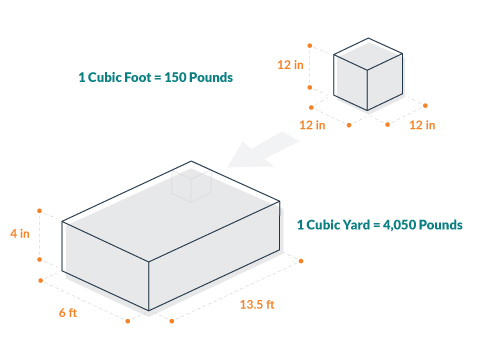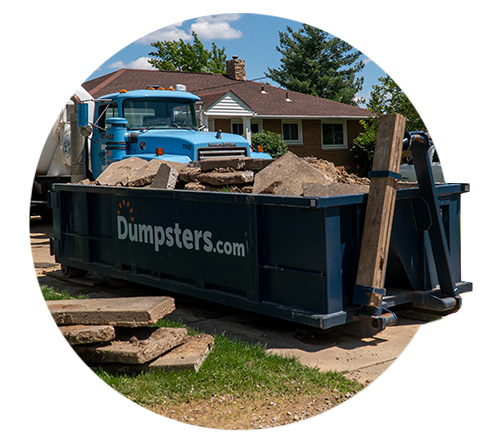 How Much Concrete Can Fit in a Dumpster?
In most locations, you can load up to 10 tons (20,000 pounds) of concrete into one of our concrete disposal dumpsters.* Since just one cubic yard adds up to over 4,000 pounds, we recommend calculating the weight of your concrete before you rent a dumpster.
Concrete generally cannot be hauled in containers larger than 20 yards. Most areas place a legal limit for how much weight can be safely transported on the road. If you have a lot to get rid of, rent more than one dumpster to avoid overage fees and ensure the debris can be hauled safely.
Keep in Mind: Heavy debris cannot be collected through curbside pickup or in front load containers.
*Weight limits can vary by location.
Speak With a Concrete Disposal Specialist
How We Streamline Concrete Disposal
Expert Advice
To help you avoid going over the 10-ton weight limit, we may recommend only filling your container half-way.
Careful Placement
We use cutting-edge mapping software to identify the most convenient place for your dumpster for efficient loading.
Streamlined Scheduling
Let us know your project timeline to easily coordinate dumpster service with your other equipment rentals.
FAQs for Measuring and Weighing Concrete
How do I calculate how many yards of concrete are in my driveway?
To determine the yard of concrete in your driveway, calculate the square footage and then multiply that by the estimated depth of the concrete. Then, use our concrete calculator to enter the square footage and thickness to estimate the weight of concrete you'll be tossing.
How much does one yard of concrete weigh?
One cubic yard of concrete typically weighs one ton.
What is the difference between concrete and cement?
Sometimes concrete and cement are used synonymously, but cement is actually an ingredient of concrete. Concrete is a mixture of sand, gravel or crushed stone with cement and water as the paste. Cement can be used alone for smaller jobs like grouting or to repair cracked concrete.
More Concrete Disposal Resources
Use these helpful resources to guide your concrete removal project and learn more about the dumpster rental process.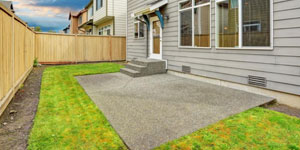 Project Tips: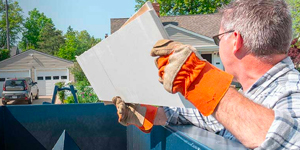 Dumpster Rental Guides: