Calculate How Much Your Concrete Weighs
Find dumpster services in your area

Concrete Weight Calculator and Dumpster Size Finder
Planning for concrete removal? Enter your project details into the calculator to learn the weight of your concrete. We'll also recommend a dumpster size for hauling the amount of debris you've got. But keep in mind that the best size for your project may vary. For a more specific recommendation, give us a call at 844-282-4253 and tell us more about your project.
Need to Calculate Another Debris Type?
Concrete Weight Calculator
Estimated weight: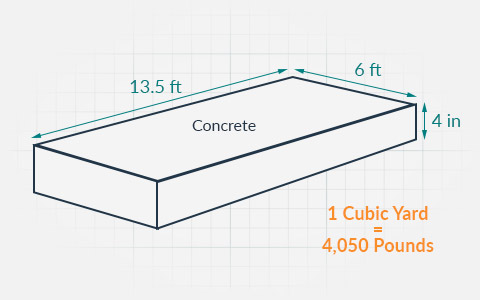 How Much Does Concrete Weigh?
The weight of concrete is calculated based on the length, width and thickness of the slab.
Concrete Weight per Cubic Foot (Solid slab): 150 pounds
Concrete Weight per Cubic Foot (Broken up): 75 pounds
Concrete Weight per Cubic Yard (Solid slab): 4,050 pounds
Concrete Weight per Cubic Yard (Broken up): 2,025 pounds
*A cubic foot or yard of concrete weighs less once it's broken up due to the amount of empty of space now included in the measurement.
Even a small amount of concrete is extremely heavy. Because of this, we can't haul it in dumpsters larger than a 20 yard container, since there is a legal limit for how much weight can be transported on the road. If you have a lot to get rid of, rent more than one dumpster to avoid overage fees and ensure it can be hauled safely.
How Much Concrete Can Fit in a Dumpster?
In most locations, you can load up to 10 tons (20,000 pounds) of concrete into one of our concrete disposal dumpsters.* Since just one cubic yard adds up to over 4,000 pounds, it's important to know how much your concrete weighs before you rent a dumpster. Even removing a relatively small volume of this material can require multiple containers. For example, a two-car driveway can hold over 10 tons of concrete depending on its exact dimensions. If you have more debris than one dumpster can hold, you can schedule an empty-and-return or rent multiple containers at a time.
*Weight limits can vary by location.
Not Sure How Many Dumpsters You Need? Ask Our Team:
844-282-4253
Dumpster Rental Pointers for Concrete Disposal
Weighed your concrete and ready to rent a dumpster? Keep these tips in mind for a smooth rental experience.
Check Permitting Requirements
If you need to place your dumpster on the street or other public property, tell us and we'll help you determine if you need a permit.
Don't Toss the Wrong Debris
In most areas, concrete must be hauled separately from other materials. We'll make sure you know the rules in your location.
Use the Loading Door
Our containers have doors for easy access, whether you're using a skid-steer loader or a wheelbarrow to move your concrete.
Don't Overfill Your Container
To help you avoid going over the 10 ton weight limit, we may recommend only filling your container half-way.
Schedule an Empty-and-Return
If it turns out you're breaking up more concrete than you planned for, call us for a swap-out and we'll get you back to work ASAP.
Curious What Concrete Disposal Costs Near You?