A Simple Guide for What to Do With Old Concrete
Concrete is an essential component in most buildings. From cinderblock basements to slabs that form foundations or patios, most homes contain at least 50 cubic yards of concrete. But what do you do with all of that material if it needs to be removed? Whether you're a contractor demolishing a house or removing a driveway, there are lots of options available for both concrete disposal and recycling if you know where to look.
Click a disposal option below to find what method fits your needs.
Important Safety Reminder
An important part of concrete disposal is knowing the weight of what you're trying to get rid of. Use our concrete weight calculator to get an estimate of how heavy your debris will be.
1. Sell It
Depending on the type of concrete you have, there are a few resale options available. The easiest type of concrete to resell is unused mix. If you have unopened bags, consider reaching out to bulk supply stores and other construction resale stores to sell them.
The market for other styles of concrete, such as block, chunk and slab, varies. Blocks are the easiest to sell if they are in good, uncracked condition. The same applies for slab. However, the size of the slab may make it hard to sell. As a result, your best bet may be to crush the concrete blocks, chunks and slabs into rubble and sell that to construction resale stores and landscaping companies, instead.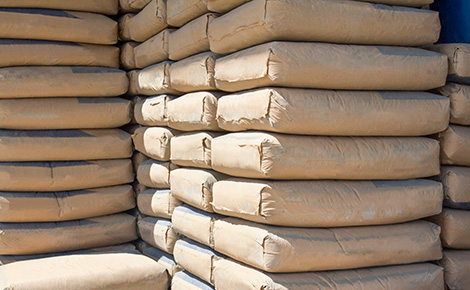 Pro Tip
Don't discount the power of online listings when it comes to concrete. Plenty of wholesale buyers are searching on Craigslist and other online marketplaces looking for a good deal on construction materials.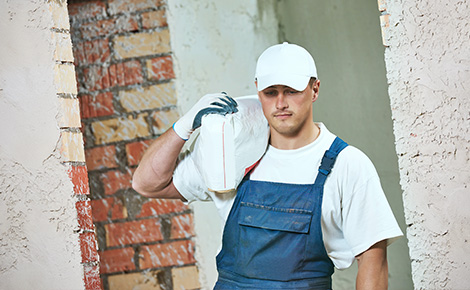 2. Donate Leftovers
A relatively simple and easy way to get rid of concrete is donation. It's usually a bit easier to donate the extra materials because there is no payment required. However, a big snag often comes from the amount of concrete being given away. Most traditional donation options, such as Goodwill or a locally-owned home improvement store, can only take small amounts of concrete. Consider some of these options when trying to locate a donation partner for your concrete:
Landscaping companies
Patio or masonry workers
Home improvement stores
Nonprofit construction organizations
3. Reuse and Repurpose Materials
If you're looking for a way to keep your concrete and use it, you need to think a bit outside the box. The good news is there are plenty of options regardless of the type of concrete you're dealing with. Select a tab below for suggestions and tips on how to reuse and repurpose the concrete type.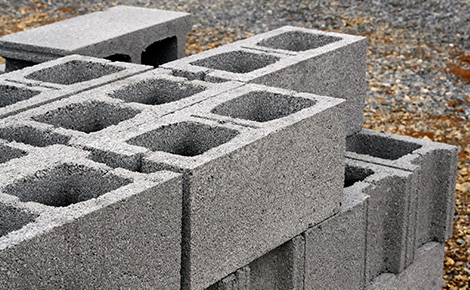 If still in good shape, blocks can be reused in any project where concrete blocks are necessary. However, if they are cracked or chipped, consider breaking them down into rubble that can be used in a wide variety of ways.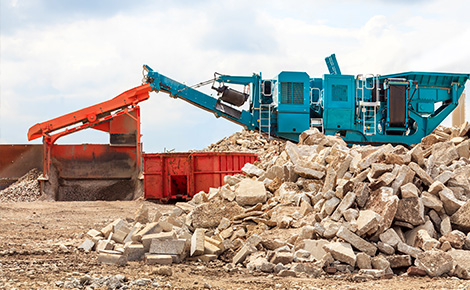 4. Find a Recycler
It's not uncommon for local recycling facilities to take concrete, particularly when it comes in bulk. However, one key thing to keep in mind is that most recyclers will only accept clean concrete — meaning concrete that does not have any rebar. The good news? Taking the time to separate your concrete from rebar can result in even more savings if you opt to recycle the scrap metal, as well.

Recycling Tip
Work with a sustainably-focused waste removal company to maximize your waste diversion efforts. Your account manager will find the recycling centers for you nationwide and help you decide if on-site or off-site sorting is the best way for you to handle your concrete. With us, you can increase your waste diversion rates and hit your sustainability goals.
5. Rent a Dumpster
Whether you continually need dumpsters while working with a high volume of concrete from a commercial building demo or just a couple of cans for handling patio removal at a residential home, renting a concrete dumpster makes disposal simple.
Our expert knowledge will work for you to ensure you have the proper boxes with weight limits to safely transport your concrete to the landfill. Plus, our nationwide coverage ensures you have new cans and swap-out service wherever and whenever you need it. Not to mention, our relationships with recycling centers and material recovery facilities throughout the country will help you hit your sustainability goals.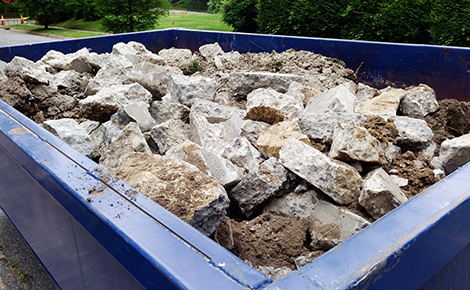 Get Jobsite Dumpster Services
Concrete Disposal FAQs
Can you recycle concrete?
Yes, concrete can be recycled in a couple of ways:
Have a waste removal company haul the concrete to a material recovery facility, where the concrete will be sorted and recycled.
Repurpose your concrete into blocks, chunks or rubble for future use.
Keep in mind, any rebar inside the concrete can also be recycled as scrap metal.
What can you do with broken concrete?
The most common use for broken concrete is repurposing chunks into landscaping pieces or temporary weights. You can also further break down the concrete into rubble, which has plenty of uses.
If you're working with a broken slab, consider turning the slab into multiple blocks, with the remainder becoming chunks or rubble.
What can I do with leftover wet concrete?
There is plenty you can do with leftover wet concrete, but the key is to act quickly before it dries and solidifies. You can mold the extra concrete into blocks, or consider letting it dry in chunks and then breaking those chunks down into rubble.
Additional Disposal and Recycling Resources
Looking for some other tips on how to handle concrete and construction debris? Check out the advice in some of our blog posts, resources and disposal guides.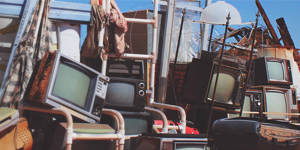 Bulk Waste Disposal Guides: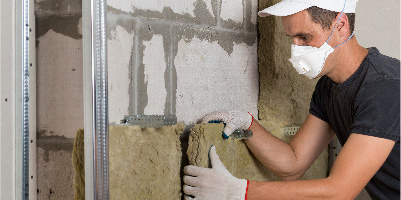 Project Tutorials: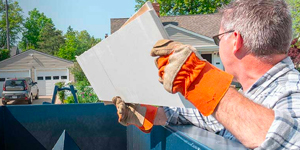 Dumpster Rental Tips: