Microwave Disposal Options for Any Home Cleanout
Since 1945, microwave ovens have been a kitchen staple — but that doesn't make them invincible to damage or wear and tear. Microwaves break all the time with an average shelf life of eight years. Whether it's donating an outdated model or tossing it alongside other broken kitchen appliances, learn how to get rid of an old microwave in six easy ways.
1. Sell It Online
Is your outdated microwave still working but you want to upgrade it for a kitchen remodel or get rid of it before a move? Sell the appliance to a local buyer online. The average used microwave sells for $25 but the return can be up to $100 for nicer models. Start a listing with one of these popular sites: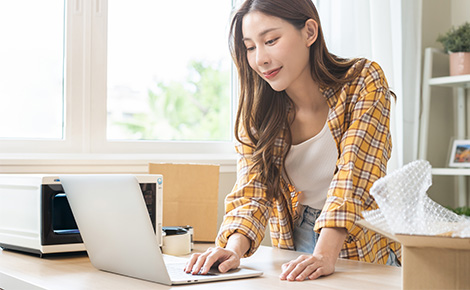 Tips for Selling a Microwave Online
Make sure you're pricing the microwave appropriately to sell in your area by comparing the model you have to similar models online. Consider a lower price for a quicker sale or a pricier option if you have a high-end brand.
Since it's used, take accurate photos in good lighting. Don't shy away from close-ups of any scuffs or damage.
Specify whether or not your microwave is built-in or free-standing. Note the brand, year and overall condition.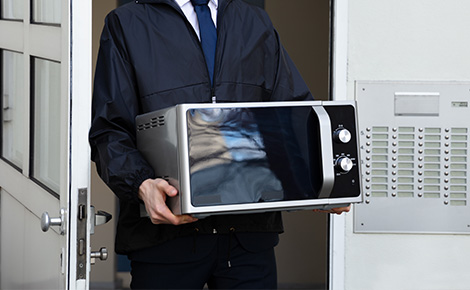 2. Donate It
Since most donation centers accept small appliances, giving away a working microwave may be a great alternative to selling it if you don't want to deal with the extra effort of listing it online. Or, consider reaching out to a local housing charity or homeless shelter to see if they can accept your microwave. Simply clean it and take it to the place of your choice, whether that's a local non-profit or national organization.
3. Recycle It
Recycling your old microwave is a great, eco-friendly way to get it off your hands. Some recycling centers will even offer cash incentives, particularly if you're tossing more than one appliance at once. Check out RecyclerFinder.com, your utility company website or local government for more information. If your microwave is broken, contact an electronic repair shop to see if they'll use it for parts.
Look Up Local E-Waste Regulations Before Tossing a Microwave
Microwaves are considered electronic waste or e-waste. Regulations for tossing e-waste can vary greatly from place to place. Be sure to check your local government's website for the most up-to-date guidelines on e-waste disposal so you can get rid of it properly.
4. Put It on the Curb
Placing your microwave on the curb may be a convenient disposal option, but you'll need to research your local regulations first. Most cities will steer you to recycling centers in order to keep e-waste out of landfills. Others may require you to package up the microwave before they'll take it, and nearly all municipalities have limited bulk waste pickup days, meaning you could be holding onto your old microwave longer than expected.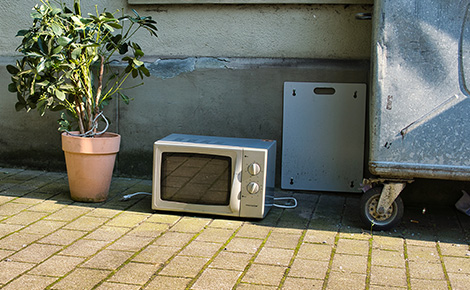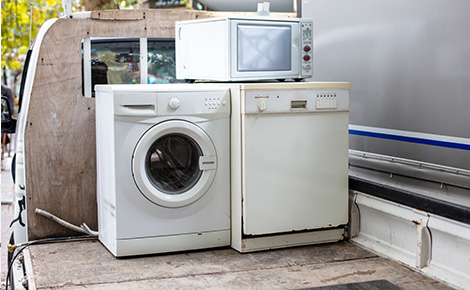 5. Use a Junk Removal Service
Junk removal companies will enter your home to remove microwaves and other junk. Keep in mind they charge by the truckload, so you'll still cover the cost of any unused space. This option is beneficial if you have a lot of items you need tossed and prefer to pay junk removers to move items for you.
6. Rent a Dumpster
Rent a roll off dumpster for a convenient way to get rid of a microwave during a larger junk removal project, like cleaning out a house. A container can be delivered right to your driveway, shortening the distance to dispose of waste and making any cleanup a breeze. This option gives you the ability to work at your own pace and not have to stop progress to drive to and from the landfill yourself.
Search Dumpster Services Near You
Microwave Disposal FAQs
How long do microwaves usually last?
On average, microwaves last 7-8 years. That's a lot of microwaves to go through in a lifetime, which is why finding a great method for disposal is helpful.
Do scrap metal collectors take microwaves?
Yes, microwaves can contain valuable scrap metal and other rare materials that can be recycled to make new products. Steel, copper and aluminum are commonly found in microwaves and used for parts. Expect to pocket approximately $.50 - $3.00 per pound if you're looking to sell.
Check local regulations before scrapping your microwave for parts. Different cities have rules on what needs to be removed first, such as radon plates and capacitors.
Can microwaves go to landfills?
The short answer is yes, microwaves can be disposed of in landfills. However, some landfills have specific dumpsters or bins for electronics and small appliances, so be sure to call ahead before dropping it off.
More Debris Removal Resources
Getting rid of more than just a microwave? We'll walk you through the disposal process for regular unwanted items, both inside and outside the home. Check out our straightforward disposal guides, useful articles and blog posts to learn more.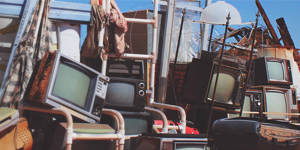 Bulk Waste Disposal Guides: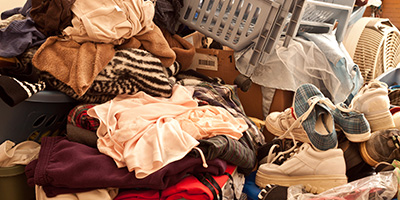 Project Tutorials: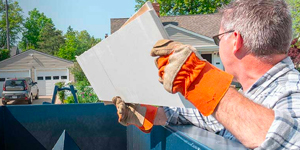 Dumpster Rental Tips: