How to Properly Dispose of Trash
Find dumpster service in your area

Getting Rid of Garbage the Right Way
Proper trash disposal matters. It safeguards our communities, preserves the environment, and even saves you money. Improperly disposing of trash often comes with hefty fees. Don't fret, though. We've got you covered with a comprehensive list on how to properly dispose of those tricky waste items.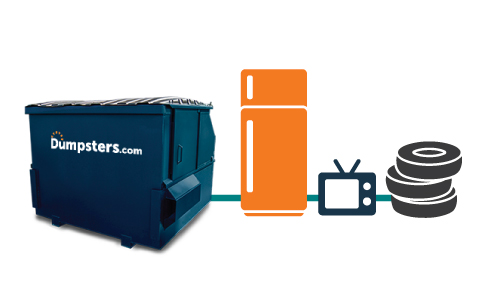 Frequently Asked Questions: Getting Rid of Trash
Where can I get rid of trash?
It depends on the kind of trash you're tossing and where you're tossing it. Local regulations can differ from place to place, depending on the trash and recycling programs available in the area. However, most trash can generally be taken to your local landfill or transfer station.
What kind of landfill should my trash go to?
There are four different types of landfills - municipal solid waste (MSW), industrial (C&D), hazardous waste, and green waste landfills.
Most common, household trash can be taken to your local MSW landfill, while construction and remodeling debris can go to C&D landfills.
Hazardous waste landfills often have highly regulated procedures, so be sure to reach out to before attempting to drop your potentially hazardous was off. Not all areas have green waste landfills so if you have organic waste to toss, do a little research to find the best way to get rid of it near you.
How can I get my trash to the landfill?
To get trash to a landfill, you have a few options:
Leave It at the Curb: Local trash services can often take most kinds of household trash. However, if you have a large amount of trash, you may have to call ahead to request bulk pickup on your next trash day, or wait until their next-scheduled bulk pickup day. Still, your garbage services have their limits - if you have too much trash, they may only take a little of the waste at a time and pick up the rest during their next pickup.

Take It to the Landfill Yourself: Usually, you can drive your trash to the landfill yourself, where they'll charge you a per-pound fee to dump your waste. Some landfills only allow drop offs on specific days, so be sure to call ahead or check their website for details. Still other landfills even offer free dump days on a monthly or quarterly basis. If you have a major cleanout to do and want to get rid of the trash for free, try timing it around your landfill's free dump days.

Rent a Dumpster: If you have a large amount of trash that you can't leave sitting around your home or business until the next bulk pickup or free dump day, renting a dumpster can be a great way to get rid of it. When you order a dumpster, a truck will deliver a roll off dumpster to your driveway, street or parking lot. You can open the swinging door to walk in your items one at a time. Because you can hang onto a dumpster for a week or more, this is a great solution for multi-day or even multi-week projects that require a lot of waste disposal. There are several dumpster sizes to choose from, depending on how much garbage you need to dispose of.
Find Dumpster Prices Near You
Remodeling or Construction Debris
This type of debris should generally be disposed of in a roll off dumpster. Construction and remodeling debris includes materials like drywall, concrete, flooring, shingles and lumber. While some of these items can be left at the curb in small quantities, renting a roll off dumpster is best for most situations.
Find the right disposal guide for your construction debris below:
Mattresses
There are three options for disposing of mattresses: curbside bulk collection (check your city's bulk collection schedule), donation or a mattress recycling service. In some areas, you may also be able to dispose of a mattress in a roll off dumpster. While mattresses aren't harmful to the environment, they typically can't be disposed of with other trash because they take up too much landfill space.
Electronic Waste
To dispose of e-waste, you should take it to an e-waste recycling service or dropped off at an electronics store that offers recycling. E-waste includes all electronic items, such as cellphones, laptops, tablets and televisions. Trash disposal guidelines are different for e-waste than other household waste due to the harmful chemicals it contains.
Appliances
There are several trash disposal options for appliances: curbside bulk collection (check your city's bulk collection schedule; may not be accepted in all cities), donation or a trade-in program through your power company (check for eligibility). Appliances that contain Freon - like fridges and air conditioners - that have been properly drained of refrigerants may also be accepted in a rental dumpster.
Tires
Tires should be recycled, which can generally be done through a local auto shop. In some cities, you also have the option of disposing of tires during curbside bulk collection events. Tires are banned from most landfills, and therefore [banned from most dumpsters]https://www.dumpsters.com/resources/prohibited-items), because they can damage landfill infrastructure if they burst.
Hazardous Materials
Hazardous materials should be disposed of at your city or county's household hazardous waste facility. These materials include fuels and oils, car batteries and other items that contain lead, paints and various chemicals. Due to the dangers it poses, never dispose of this trash in your garbage can or in a dumpster.
Medical Waste
Medical waste should be disposed of through a medical waste disposal service or at one of the DEA's authorized drop-off locations. Medical waste includes needles, unused medications, various types of home health apparatus and any materials (such as bandages or gloves) that have been in contact with blood, bodily fluids or any potentially infectious matter. Due to the health risks involved, never dispose of this waste in your garbage can, a dumpster or by pouring it down a drain.
More Trash Disposal Resources
Still looking for a better way to get rid of trash? Check out the following dumpster and waste disposal resources below.