How to Get Rid of Old Flooring Materials
Don't let disposing of your old flooring hold up your project, whether you're installing a classic hardwood floor or opting for the comfort of carpet. While tossing old flooring rolls and planks in the weekly trash might seem like the natural solution, it may not be that simple. Flooring is considered bulk debris, which your regular garbage service often won't pick up all at one time.
Luckily, we cover all your old flooring disposal options in this guide, from donation and upcycling to bulk pickup and dumpster rentals.
What Kind of Flooring Do I Have?
While linoleum, vinyl and laminate flooring are very similar in many ways, they are unique materials and the disposal method you choose may depend on the flooring type you're dealing with. Before getting started, know what kind of flooring you're tossing.
This flooring type was created to mimic hardwood. It's a composite of plywood, fiberboard and a photo-realistic image — combined by a lamination process. While it has advanced to be nearly indistinguishable from hardwood floors, the easiest way to tell the difference is to find a pattern in the planks. You're dealing with laminate if you do.
1. Use a Local Recycler
For smaller quantities of laminate, vinyl and linoleum — such as scraps from new flooring installation or a smaller room like a bathroom — recycling is a fantastic way to give your old flooring new life. While they can't be tossed in your recycle bin, most recycling facilities will accept them as drop-off loads.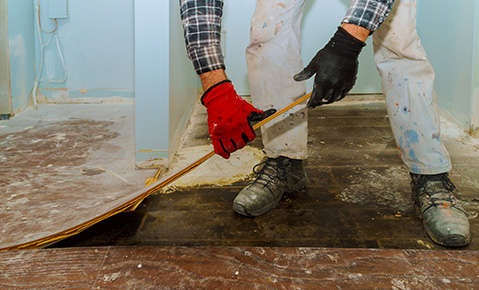 Tips for Recycling Old Flooring Materials
While you can reach out to your local recycling facility, the technology for laminate recycling is relatively new, so not all programs can handle it. If your area's recyclers can't help you dispose of your old laminate, it's best to reach out to the laminate manufacturer to see what recycling programs they may be affiliated with. The best part is that some programs will pick up your flooring from your home.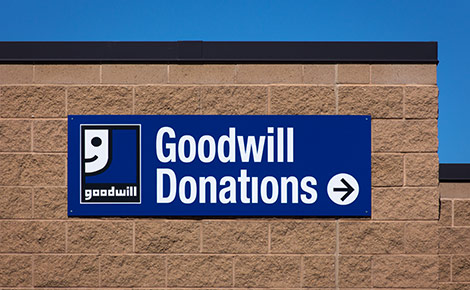 2. Donate It
Donation is a great way to get rid of vinyl, laminate and linoleum flooring, provided the materials are in good shape after removal. Try your local Habitat for Humanity ReStore, listing your flooring on a donation site like FreeCycle or contacting your local donation options to see if they'll accept your old floors. Remember to reach out to any donation locations before showing up with your flooring — they may not have the space to accept it.
3. Repurpose or Upcycle It
For the craftier among us, repurposing and upcycling is always a fantastic option no matter the flooring type. Laminate flooring can make excellent coffee table coasters and vinyl can be turned into liners for your kitchen cabinets. Linoleum can be cut into fun shapes for kids to use as paint and marker stamps — the sky's the limit!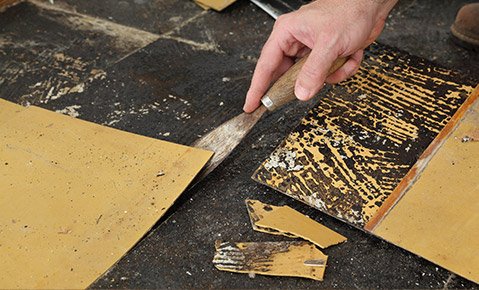 Keep in Mind
Linoleum has some of the most versatile repurposing opportunities. Since it's wood-based, it can be added to compost piles and eventually become sod that can be used in your landscaping. It's also burnable, making a good fire-starter for your next bonfire.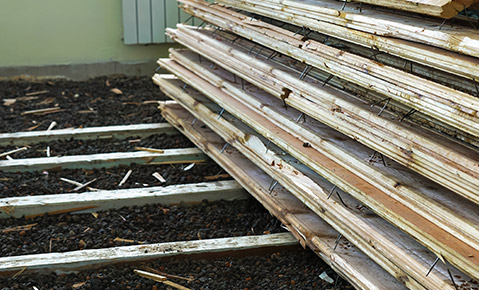 4. Use Your Curbside Bulk Pickup
Bulk pickup is typically the most convenient option for disposing of linoleum, vinyl or laminate flooring. However, there are some drawbacks you'll need to weigh. Most curbside recycling programs won't accept linoleum, vinyl and laminate, and it will end up in the landfill.
Tips for Bulk Collection
Every curbside trash company has its own rules and regulations for bulk collection. Reach out to see what your rules may be. Common restrictions include: extra fees for bulk waste, specified bulk collection days, bans on collecting construction debris and limits on the amount of flooring taken at once.
Don't toss loose scraps into your trash bin. Bag or bundle any flooring you toss so that it remains together, particularly if you're required to keep bulk trash outside of your bin.
Find an unobtrusive spot on your tree lawn or driveway. Plan to place your old flooring in a way that doesn't obstruct the street or sidewalk.
5. Hire a Junk Removal Service
Junk removal services are an option to consider when you have a lot of old flooring to get rid of. However, since you are charged by the truckload, it may not be the most economically fit option for single-room and smaller household flooring projects.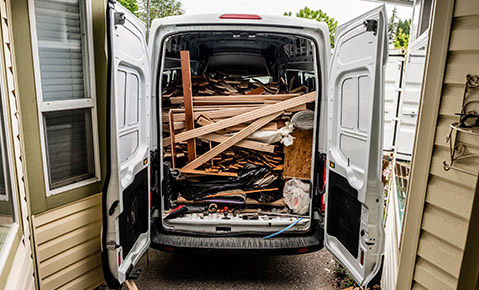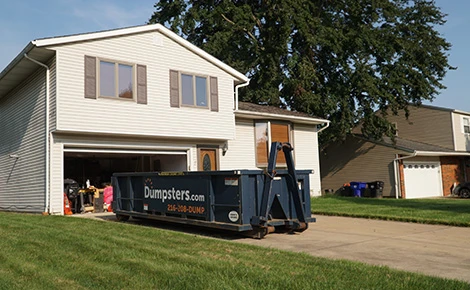 6. Rent a Dumpster
With a variety of sizes available, a roll off dumpster is an easy, reliable option to dispose of flooring. Whether you're taking care of one room or a whole home, a residential dumpster lets you get the job done at your own pace without the rush of trying to hit your curbside collection day or scheduled junk removal appointment. Plus, when you're finished with your flooring disposal project, you can simply request a pickup to have it all hauled away as soon as possible.
Search Dumpster Services Near You
Flooring Disposal FAQs
Can I burn laminate flooring?
No, you can't because laminate flooring is not true wood. Burning it could release harmful gasses into the environment.
Can I burn linoleum?
Yes, because linoleum is wood-based it is quite easy to burn. Just be sure you're following any local restrictions on how to burn materials.
Can laminate flooring be composted?
No, only linoleum flooring can be composted because it's primarily made of wood-based products.
Are linoleum and vinyl flooring the same?
While both are great at mimicking the appearance of wood and tile flooring, they are not the same. Linoleum is wood-based, while vinyl flooring is made of PVC plastic.
Can I put vinyl flooring in the recycle bin?
No, not all recycling facilities are equipped with the machines needed to recycle PVC plastic. If you would like to recycle your vinyl flooring, you'll need to find a recycling center with this ability and drop it off yourself.
More Debris Removal Resources
Tossing other items or looking for advice on flooring projects? Check out our helpful guides and blog posts below.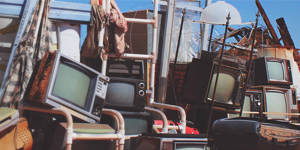 Bulk Waste Disposal Guides: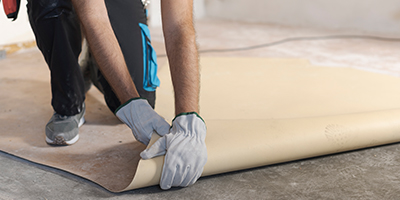 Project Tutorials: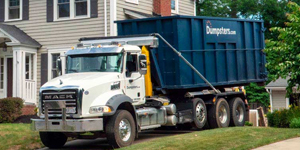 Dumpster Rental Resources: