Tile Disposal From Any Home Project
Need to get rid of old tile? Whether you're updating your kitchen backsplash, renovating your cracked ceramic entryway or replacing a broken shower wall, there's plenty of ways to dispose of old tile quickly, easily and affordably. Learn how to earn money selling tiles in bulk, reuse pieces of tile to form a surface collage and more with our in-depth guide to disposing of old tile.
1. Sell It Online
Earn money selling your tile with a little research. Identify which brand of tile you have by viewing manufacturer's catalogs or consider bringing a sample to a flooring store. Next, choose a selling method — online, antiques stores, interior designers, universities with art studios — and gather all the information before you advertise. Price your tile by comparing the condition, size and amount to other recent sales, and you're all set.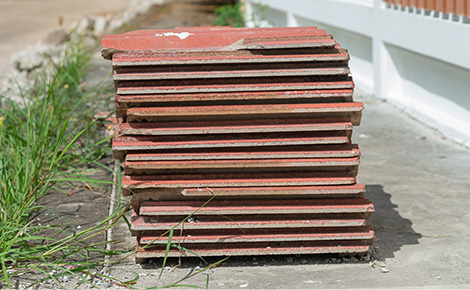 Tips for Selling Old Tiles Online
Compare your tile's overall size and condition with other sellers, both in your area and nationwide. Price per piece and offer bulk discounts to unload your tile all at once.
Measure the tiles to accurately describe them to a potential buyer. Don't forget to include a thickness measurement as well.
Use natural light and turn off your camera's flash for the best way to capture your tile. Consider tilting the pieces at an angle against a neutral backdrop to stop your shadow from interfering, and set your ruler beside it so the measurements are clearly visible in the picture.
The best place to exchange items from an online sale is at a public place, like a local coffee shop or gas station.
However, if you're unable to meet your seller out and about, make sure you ask a friend or family member to wait at home with you for the handoff.

Pro Tip
If you're selling tile online, it's a good idea to direct the sale to locals only. Tile can be expensive to ship as it's heavy and delicate, especially in bulk. Be sure to assess your city's market and go by demand. If there aren't any local buyers, consider shipping in multiple packages with lots of bubble wrap.
2. Donate It
If you want to save time, donating tile that's still in good shape can be an easy way to unload it off your to-do list. Talk to your local art studios, schools or designers. Tell them your tile's size and condition, plus the amount you wish to give away. Lots of places will accept damaged tile, so don't be afraid to reach out if yours is chipped or cracked — just be honest about the state it's in.

Keep in Mind
Big-name donation centers, like Goodwill and the Salvation Army, do not accept building materials, including tile.
3. Reuse It in Other Projects
Reuse ceramic tile by repurposing it into a new project. You don't have to be an artist to make something out of old tile, especially with inspiration from sites like Pinterest. Take different pieces to form an abstract serving tray or centerpiece. Add paint and felt stickers to make coasters, or compile sections into a neat picture that hangs on the wall — you can do as much or as little as you want. If you're especially good at crafting, try selling your handmade pieces on online marketplaces, like Etsy.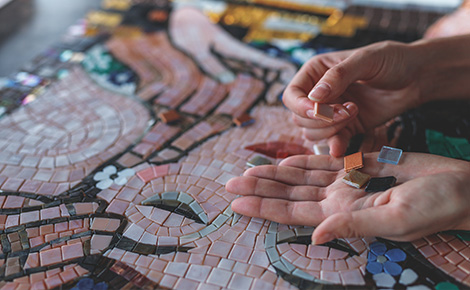 Find Dumpster Services for DIY Home Projects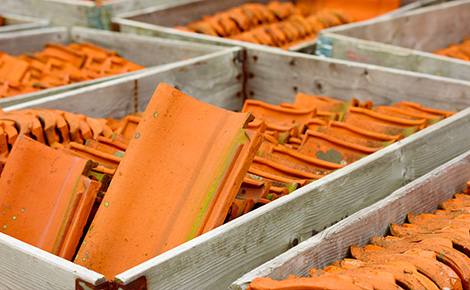 4. Find a Local Tile Recycler
Recycle ceramic tiles at a nearby recycling center for convenient disposal. Due to its makeup and weight, it cannot be thrown out with your regular trash or recycling service. You'll need to contact your local recycling center to make sure they accept tile at their facility, then drop it off yourself. This is a good option if you don't have a ton of tile to get rid of and live in an urban area.
Tile Recycling Tips
Contact Local Recycling Companies
Call or email the closest recycling facilities near you. Ask if they accept tile and follow their instructions if they do. It also helps to get their hours and specifics on where to drop it off so you aren't carrying around a heavy box needlessly.
Preparing for Transportation
Tile is heavy, especially in bulk. Be sure to use sturdy boxes and add extra padding at the bottom. Use multiple, small containers if you have a lot of tile to take to the recycling center instead of one or two large boxes — you won't regret it.
5. Hire a Junk Removal Service
Consider consulting a junk removal company if your local recycling center doesn't accept tile. They will come to your house and load the tile in their truck. Although some companies offer upfront quotes, the final cost is typically a surprise because they can't give you a total price until they've assessed your items in person. Their staff also may not be used to handling construction debris on a regular basis.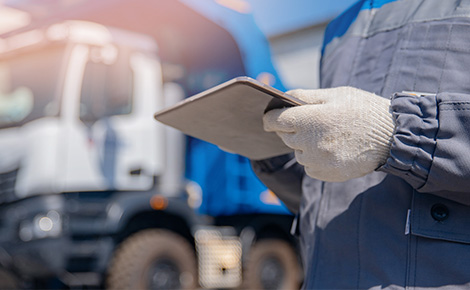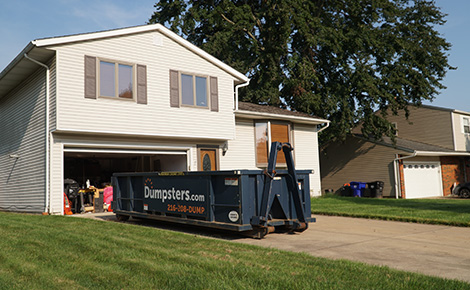 6. Rent a Dumpster
If you want less work and no guessing games, a residential dumpster rental is a great way to get rid of tiles. Just order a container online or by phone, receive an upfront, bundled quote, then load it at your own pace after it arrives. This way, there's no piles of broken tile in your house as you clean and no unexpected costs on your final invoice. Just request a pickup when you're finished and our drivers will haul it away — it's that easy.
Search Dumpster Services Near You

Keep in Mind
If renting a dumpster for tile disposal, be aware of your weight limit. Tiles are heavy and the weight can add up fast. Reach out and we'll recommend the right bin size to hold your old tiles.
Tile Disposal FAQs
How can I sell my tiles?
Identify the condition and type of tile you have to sell. Measure your tile, take well-lit photos and post the sale online or contact local retailers to gauge their interest. Antique retailers and art studios are a great place to start.
Can tile be recycled?
Yes, old or cracked tiles can be recycled at most recycling centers. The facility reduces them into a fine powder to use as a component in new materials or road construction projects.
Can I throw tiles in the garbage?
No, your tiles can't be thrown out with your regular garbage or recycling service. Since tiles are made of materials — ceramic, porcelain, glass, marble, cement — that can harm the environment, the landfill won't accept them. Contact your local recycling center to see if they accept tiles before you attempt to drop them off.
Can tiles be removed and reused?
Depending on age and condition, most tiles can be removed and reused in the same way or for a new project. This is especially true if you are repurposing broken tile into an art piece. Some tiles can even be painted or applied to an existing area, like a pop of color in an otherwise neutral backsplash.
Can I remove tile myself?
Yes, tile removal is easy with the right tools — you don't even need to be a DIY expert.
Keep in mind that you can't dispose of tile in your regular garbage or recycling.

Safety Tip
Asbestos-based fastening paste for tiles was common during the production of flooring to make it stronger and more durable. It's typically seen in the floors of older buildings and isn't limited to just vinyl tiles or flooring in general — wall and ceiling tiles can include asbestos.
Please be careful when handling older tile as it can stir up asbestos dust in the air. Wear a mask and gloves for protection or hire a professional to remove them.
More Furniture Removal Resources
Getting rid of more than just old, tired and broken tile? We take you through the disposal process for every unwanted item. Check out our easy-to-follow disposal guides, helpful articles and blog posts to learn more.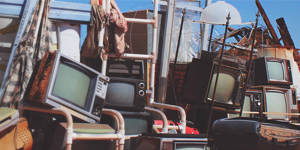 Bulk Waste Disposal Guides: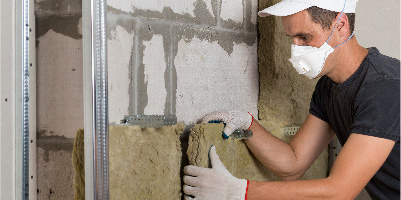 Project Tutorials: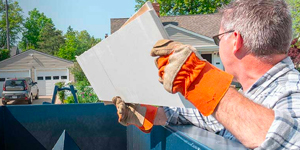 Dumpster Rental Tips: