A Complete Guide to Pallet Disposal
Wood pallets are the way people ship goods. Over 90% of pallets used in the United States are made of wood and are used by homeowners and contractors alike. Large or ongoing projects at places like distribution centers and solar installation jobsites use dozens — sometimes hundreds — of pallets per project.
No matter how many pallets you're tossing, here are the best ways to dispose of them, along with some alternative disposal methods. Interested in a particular option? Choose from the list below.

1. Sell
Regardless of condition, pallets can be sold for competitive prices. The average price for wood pallets in like-new or good condition is $0.50 - $4 per pallet. Some companies may offer pick-up services — which can help clear jobsites, warehouses and driveways quickly. Consider these factors when pricing your pallets:
Size: Smaller pallets will still make you money, they just aren't valued the same as larger pallets, even in similar conditions.
Condition: Companies buying pallets will pay more for newer ones. However, there is still a market for broken pallets that can be easily repaired.
Number of Pallets: While the sale price of pallets is based on size and condition, the number of wood pallets also affects the price. Generally, the more you sell, the more you make.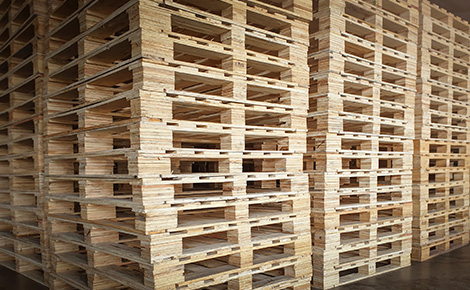 Pallet Buyback Program Directory
We've pulled together a list of nationwide and regional pallet producers and distributors so you can find a buyback program in your area.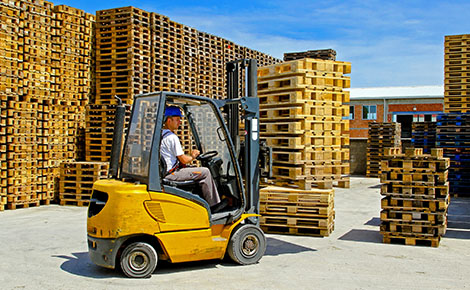 2. Donate
Don't know where to get rid of pallets? Consider donating them to agencies like I-Beam that build temporary shelters for the homeless, refugees and disaster victims. There are other national and local nonprofits that may accept your pallets, such as Habitat for Humanity. Pallets that have not been treated with chemicals can also be donated as firewood or for mulching. You'll need to research your local restrictions on firewood first.
3. Refurbish
As part of buyback programs, some large pallet management companies will fix broken, damaged or soiled wood pallets and redistribute them into the market. These national and regional companies will also repurpose pallets for mulch used in landscaping or for animal bedding.
Both refurbishing pallets and mulching them are great ways to divert unnecessary waste from landfills. Before mulching your own pallets, be sure to remove the nails from the boards. The nails themselves can often be recycled, which increases your ability to hit project waste diversion goals.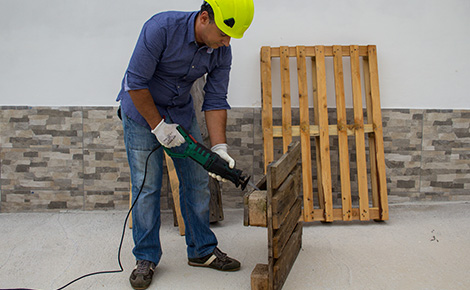 Safety Tip
Wood pallet recyclers and refurbishers typically only accept pallets that haven't been treated with chemicals.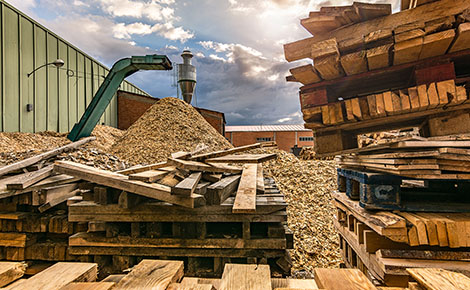 4. Recycle
Both contractors and homeowners have recycling options for pallet disposal. While limited, several large, national distributors and producers of wood pallets offer recycling services.
The National Wood Pallet & Container Association (NWPCA) provides a database of wood pallet recyclers across the United States. Use their site to find out where to get rid of pallets sustainably in your state. Keep in mind the sizes and conditions of your pallets may impact your recycling capabilities.
5. Rent a Dumpster
While there's no guarantee you'll find local recycling options in your area, ongoing dumpster rentals are a proven way to help clear jobsites and declutter warehouses. Plus, timely container swaps and proactive service can save large projects, like solar farm installation or new development construction, time and money. Recycling options may also be available to help your waste diversion efforts, depending on your area.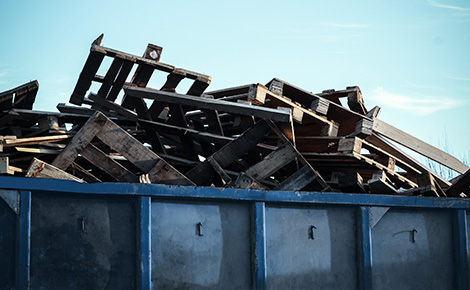 MHS Global Saves 3-4 Hours per Project With Dumpsters.com
Read how our team helps a global material handling company save their regional field coordinators valuable time, ensuring their projects run smoothly and finish on schedule.
Removal Tips for Wood Pallet Alternatives
If you use alternatives to traditional wood pallets, disposal options are still available. Manufacturers make pallets from a variety of materials — including plastic, metal and corrugated paper, but disposal options vary for each material. Learn more from our list below.
Plastic Pallets
Disposing of plastic pallets often requires industrial or commercial recycling services. Large, nationwide plastics recyclers can handle high volumes of pallets — your local facility may not.
Get Dumpster Services for Your Jobsite
What Is Pallet Pooling?
One way to avoid the hassle is to pallet pool. In short, pallet pooling is a full-service rental option for high volumes of pallets. The pallets are delivered to an agreed place at an agreed time and are picked up when the project is done.
The industry sees more and more contractors turn to pallet pooling every year. Future Market Insights predicts the pallet pooling market will increase by up to $6 billion in 2023. Pallet pooling reduces the use of natural resources and provides a cost-effective alternative to traditional disposal, but services can be limited based on location and project size.
Wood Pallet Disposal FAQs
Pallet wood is toxic if treated with the chemical sealant and pesticide methyl bromide. Manufacturers mark these pallets with the branded initials MB. Wood pallets may become contaminated during the shipping of various toxic substances, as well. A lot of pallets are heat-treated, however, and are non-toxic.
What can you do with rotten pallets?
Rotten pallets can be refurbished and recycled or sent to landfills for disposal. Do not burn rotten pallets. They often contain molds that are hazardous to your health if inhaled.
Sometimes. Wood pallets can be burned if they're not rotten or treated with chemicals. Burning treated pallets is a health and environmental hazard and may be in violation of local laws.
How much does pallet disposal cost?
Landfills typically charge by the pallet. However, with buyback and second-hand services available, you can actually make money. That said, the time it takes to find a local buyer/recycler can rack up big costs and leave jobsites a mess in the meantime.
Additional Disposal Resources
Find more trash disposal methods with these blog posts and articles: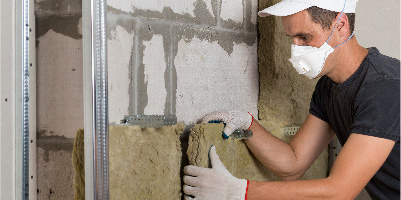 Blog Posts: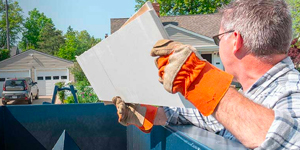 Dumpster Rental Resources: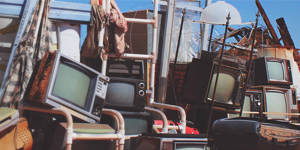 Bulk Waste Disposal Guides: